Missing from the Mill Hill area - two families are distraught
Stripe a much loved cat belonging to not one, but TWO families - has vanished from the Mill Hill area of Acton.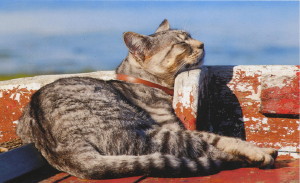 Stripe was lost once before from his original home in Shakespeare Road in Acton Central where he was an important member of the family for 8 years.
After being missing for 3 years he was found living on Avenue Road with a different family.
After a visit to the vet his original owners decided it would have been wrong to take him back as he was happy and beautifully cared for - but they retained visiting rights and now both parties are desperately sad that he has disappeared again and are asking for everyone to keep a look out.
A substantial reward is being offered.
Peter Wright is a family friend who has written to Acton W3 on behalf of the original owners.
He says he used to look after Stripe when younger and he is greatly loved member of the community.
Can you help?
Please call Peter on: 02089934028 or 02089925913 or email editor@actonw3.com if you might have any information.
September 7, 2011