Priyesh Patel produced a' budget to reduce deficit a lot'
A 15 year-old Twyford CofE High School Studen has been awarded the title of Youth Chancellor 2011 after winning the Citizenship Foundation's Chance to be Chancellor challenge.
Priyesh Patel, impressed the panel of judges with his vision for prioritising public spending in these austere times.
Speaking on Gaby Roslin's BBC Radio London show this morning, Priyesh said his budget is 'aiming to reduce the deficit a lot by the next general election'. On bankers' bonuses, he suggested that government 'should do more than just capping'.
Priyesh Patel was one of almost 3,000 young people who used the online Chance to be Chancellor tool to create their own Budgets for the country. Of these, 249 went on to present the case for their Budgets in competition for the coveted title of 'Youth Chancellor'.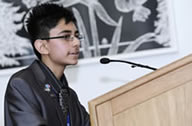 Of the 2,826 young people who created a Budget, 1,363 (ie those who were not anonymous) are represented in the first ever Youth Budget, launched today at HM Treasury.
This afternoon Priyesh presents the Youth Budget to Sir Nicholas Macpherson, Permanent Secretary at HM Treasury. We are marking the occasion with a panel debate of MPs, chaired by Sam Fleming, Economics editor of the Times. A number of the competition participants will quiz the panel on issues of the economy.
The Youth Budget brings together the results of the Chance to be Chancellor challenge, an online interactive tool that invited young people to give their opinions on public spending in eight key areas. Chance to be Chancellor is part of the Paying for It programme, an economic awareness education programme run by the Citizenship Foundation in partnership with Aviva.
Gary Price, UK Marketing Director at Aviva said:
'The quality of the submissions for the Chance to be Chancellor competition is a testament to the great work that the Paying for It programme brings to educating and engaging young people on important economic and political decisions of the day'.
April 7, 2011