The results are in!
As we previously reported, the council have run a competition among Acton's shops challenging them to have the most festive shop window of all, as they have for the past few years.
And the results are in! The rather wordily titled "Acton Winter Wonderland Best Dressed Window Competition 2011" is complete and the awards have been given. And the winner is: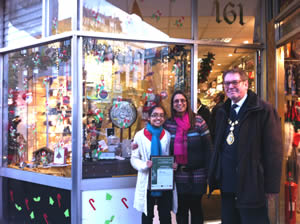 Greetings! The card shop on the high street, a little up from McDonalds. Next up, the silver winner: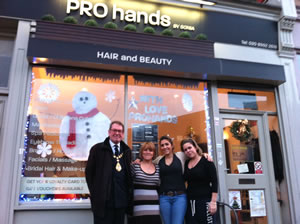 Pro Hands, the salon on Churchfield Road. That man in the pictures with the ostentatious necklace is Ealing Mayor John Gallagher by the way. In third: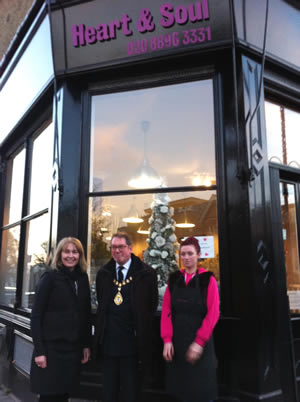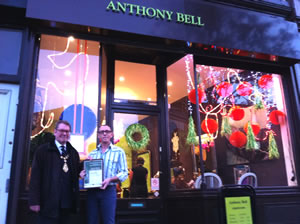 In a slight upset Heart and Soul florists and the Anthony Bell hairdressers - both on Churchfield road - were awarded joint bronze. The prizes were £250, £150 and £100 respectively, though not in money but in refuse collection vouchers. ActonW3.com has been assured that even though these sound like fairly rubbish (ho ho!) prizes, they were in fact greatly appreciated by the winners. These are people who perform actual jobs though, unlike the ActonW3.com Editor who has managed to con the world that pottering about on the internet all day qualifies an employable skill, so they're probably right.
Other businesses who done up their shops well nice and win a £50 reward include the Limpopo butchers at the south end of Horn Lane, and the Pinto Thai Kitchen restaurant, MOK Nails & Cosmetics, Act On Computers, Coffee Etc, and Fireworks and Balloons, all of the High Street.
Well done to them all!
December 23, 2011