Ealing Council organises contest for festive businesses
Sure, it's only October. The leaves are still mainly on the trees, and you haven't even started wearing a scarf yet. But you know it's coming. You can feel it. It will be Halloween soon, and then Fireworks Night - after that you cannot deny what's heading over the horizon like a red-and-green spectre made of tinsel.
Christmas is inevitable.
To make it even more totally unavoidable, the council has organised a contest for the most festive Acton shop front, the seventh in as many years. The Best Dressed Window Competition 2011 will judge which of the participating businesses best captures the spirit of the "Acton Winter Wonderland" through the medium of window frosting from a spray-can. The prize for reaching this apex is a certificate and £250 of commercial refuse sacks or £250 towards private commercial refuse collection, which probably sounds like a more impressive prize if you actually own a shop.
Previous businesses bestowed with this accolade include Anthony Bell (the hairdressers), Pinto Thai Kitchen and Heart and Soul (the florists). Who will win this year? You can find out yourself at the Acton Christmas Fair on the Mount on the 10th of December, where the result will be announced by no less a luminary than the Mayor himself.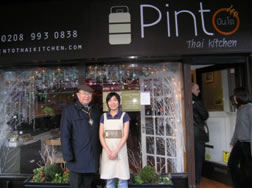 Presumably, soon the shops of our fair town will be bedecked in tinsel and snowflake cut-outs, in a brutal and cut-throat race for excellence and refuse sacks.
Actually, it might look nice.