Six year old son of Acton's free school campaigner victim of crime
Journalist Toby Young has tweeted that his six year old son was mugged outside their house in East Acton after setting up a lemonade stall.
Toby first posted a picture yesterday of his boy Ludo, smiling at his business venture outside their house, having made £12. But the day quickly turned sour, as Toby's tweets reveal.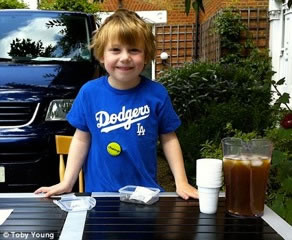 "Five minutes after I took that picture of my 6-y.r-old son selling lemonade, he got robbed. Man on a bike took all his money. Scumbag
"Son is upset, but otherwise okay. Robber told him to go and get his mum then, when he went into the house, took his float."

"I gave chase on my bike, but was abouy a minute behind him and he disappeared round a corner. When I got there, no sign of him"

"Combed the surrounding streets for 20 minutes. Nothing"

"I replaced the float and, at my urging, he went back out there and sold his remaining stock. But with me keeping an eye on him this time"

"We're now at Sainsbury's stocking up on more lemmons. He's bloodied but unbowed (not literally, obviously)."

A slew of messages of support were tweeted back, including one from @Old_Holborn which simply said 'probably the taxman.'

Toby told ActonW3.com " The only witness was my son, who described him as "at least seven foot tall". I suspect he was a teenager.'

Ludo Young went on to sell more lemonade and made an extra £8.

June 14, 2011