A Chorus Line and The Tempest with funds going to Emmaus House
Related Links
Currently TSW are working hard rehearsing for two summer productions; A Chorus Line: 24th, 25th, 26th June and The Tempest 2nd & 3rd July, both productions will be performed at The Questors Theatre in Ealing.

For further information on TSW's activities and to offer your support as either a volunteer or a patron wishing to see the shows visit www.theatrestudiowest.co.uk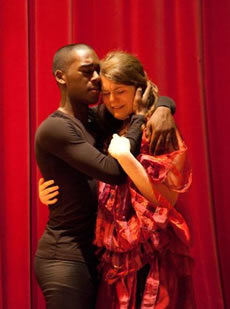 Lucie Neale as Antigone and JC Sandy Armstrong as Haemon in Theatre Studio West's production of Antigone
Participate
Sign up for our free weekly newsletter

Comment on this story on the
Theatre Studio West (TSW) Youth Company is made up of a group of culturally diverse young people aged from 4 to 19 years old based in Acton.
TSW, a registered charity was created in 2006 by Julie Saunders a local director/actress with over 20 years professional experience.
With immense vision and belief in the abilities and talent of Acton's young residents, Saunders enlisted the help of her theatre friends and colleagues to set up the theatre company. Saunders wanted to create an inspiring, innovative community environment in which young people from Acton could build a positive voice in their community and explore the issues they faced using Drama as well developing skills which would be beneficial in all areas of their lives such as teamwork, professionalism and effective communication skills.
To date the theatre group has performed to packed houses at the Waterman's theatre, Brentford, and have represented London in Malta as part of the European Celebrations Of Intercultural Diversity in 2008 & 2009.
Two current students at TSW commented on their experiences
"Every actor at Theatre Studio West has raw and natural talent but when rehearsing with Julie we are given guidance and instructions on how to hone our talent and bring out our true potential. Every rehearsal, every play and every performance is fun, but hard work. How would I sum up Theatre Studio West? A safe community, the togetherness shines through. Spontaneous and unpredictable because we are always allowed to try things out. Organised and hectic because Julie never allows us to settle for second best. It wouldn't be the same if it wasn't all those things and more."
Desmond Boadi
"I have really enjoyed the rehearsal process and I am proud and pleased to be a part of such a brilliant production.
Stephanie Anatole
Currently TSW are working hard rehearsing for two summer productions; A Chorus Line: 24th, 25th, 26th June and The Tempest 2nd & 3rd July, both productions will be performed at The Questors Theatre in Ealing.
TSW are ensuring their hard work remains positively centred around the local community and are supporting another Acton charity, Emmaus House. For every ticket purchased if the patrons mention Emmaus, TSW will automatically donate a £1 for each ticket sold.
June 17, 2010