Daily Mail reporter Catherine Ostler on the First Lady of Syria
Participate



Syria's First-Lady, Asma al-Assad grew up in Acton
Among the chaos of the popular uprisings in the Arab world, one thing is certain.

None of the estimated £40 billion smuggled out of Syria by members of President Bashar al-Assad's dictatorial regime has been given to the First Lady's parents so they can trade up their home in London.
Her father, consultant cardiologist Fawaz Akhras, and her retired diplomat mother Sahar Otri, still live in the modest, pebble-dash terrace house in Acton where they brought up their beloved daughter.
A huge satellite dish — presumably to pick up Syrian television — dominates the front of the house, which sits right next to the noisy A40.
In recent days, a female figure could be seen talking on the phone in the front room while peering out from behind the net curtains.
Even here, in the sprawl of West London, the effects of the burgeoning protests against Syria's rulers are beginning to be felt as the country sits on a knife-edge between revolution and retreat.
For Asma al-Assad, 35, was born and raised in London — where at school and university she was known as 'Emma' to her friends — before marrying the man who became Syria's president.
She was described by a British journalist who met her recently as 'in every sense — the way she dresses, speaks and holds herself — an Englishwoman'. Most intriguingly, this product of Eighties Acton could now hold the key to Syria's future.
As her president husband's closest confidante, it is Asma al-Assad who is most likely to lead him towards reform and help stave off the type of revolution that has erupted in Egypt, Tunisia and Libya.
So who is the woman U.S. Vogue recently described as 'A rose in the desert'?
Asma holds dual citizenship, British and Syrian.

Her parents, both Sunni Muslims, moved from Syria to London in the Fifties so that her father, who is now based at the Cromwell Hospital and in Harley Street, could get the best possibleeducation and medical training.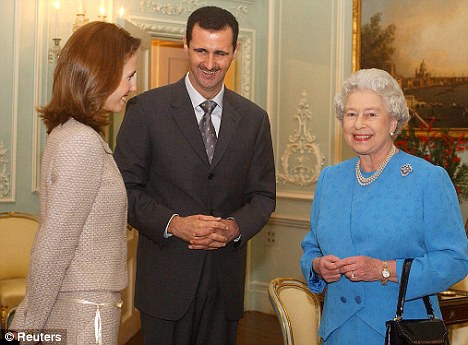 Asma, described as the 'rose of the desert', stands alongside her husband Bashar Assad as they meet the Queen at Buckingham Palace
Indeed, his career, which began in the NHS, has been distinguished by prizes, publications and significant research.
Asma was educated at a Church of England school in Ealing before attending a private girls' day school — Queen's College, Harley Street.
Those who know her say that, unsurprisingly, given that she spent the first 25 years of her life in London, Asma has liberal western values.
With her father, she has set up several London-based charities such as the Syria Heritage Foundation on whose boards sit figures such as Margaret Thatcher's aide Lord Powell, whose son Hugh advises Cameron from the Foreign Office, and Wafic Said, the billionaire founder of Oxford University's Said Business School.
A recent article by Reuters noted: 'It is a truth universally acknowledged that a dictator who wants to be accepted by polite western society should look for a charming, glamorous wife.'
Yet amid the current uprisings in North Africa and the Middle East, first ladies who were seen by the West as progressive and often charismatic, fashionable figures have been criticised and their domestic popularity shown to be shallow.
Queen Rania, the chic wife of King Abdullah of Jordan, has been accused of stealing land for her relatives.
And both the (half-Welsh) wife of the ousted Egyptian leader Hosni Mubarak and the wife of deposed Tunisian president Zine El Abidine Ben Ali became the focus of popular resentment because of their extravagant tastes.
Alone, Mrs al-Assad — whom Vogue described as 'the freshest and most magnetic of first ladies' — seems to have escaped censure, despite having impressed the Western fashion world with her willowy and unglitzy style.
She has topped French Elle's 'most stylish woman in politics' list and it is not often that the wife of a Middle Eastern dictator is profiled in U.S. Vogue.
London-based journalist Gaia Servadio, who worked for Asma for a year while attempting to set up an arts festival in Damascus, calls her 'a remarkable woman, very bright, a valuable presence next to her husband and a modernising force'.

Even in troubled Syria, this is the prevailing view, despite her husband being compromised by his hard-line family and the prevailing Baath Party. It is his wife who, many say, represents the leadership's best hope.
Fortunately, she was brought up to speak her mind.

And at Queen's College — alma mater of heiress Christina Onassis, broadcaster Emma Freud and celebutante Peaches Geldof — the girl fated to become a president's wife was not always a goody-goody; a contemporary said she often 'bunked off lessons'.
Queen's girls are known for their tendency to frequent the nearby shops of Oxford Street in break time. It seems Asma was no exception.
According to a former pupil: 'Like Peaches Geldof, they are mouthy and precocious, or outspoken and opinionated, depending how you look at it. No shrinking violets there.'

Another said 'The girls are concerned about global poverty, but they also love designer handbags' — a description that still applies to Asma.
From Queen's, where she achieved four A-levels, Asma went to King's College London to read Computer Science and take a diploma in French Literature.

She graduated with a First and, after six months of travelling, joined Deutsche Bank as an analyst in hedge-fund management.
She then moved to the investment bank JP Morgan and worked in Paris and New York, as well as London. On family holidays back in Syria, she met Bashar.
Then he, too, came to London to study ophthalmology, though he had to leave early to return to Syria after his elder brother Basil, who had been the heir, died in a car crash.
Asma started seeing him in secret, resigning from JP Morgan just a month before the wedding without being able to explain the real reason.
As she told American Vogue, her boss couldn't believe her timing, as she quit after closing a major deal and two months before her bonus was due.
She said: 'He thought I was having a nervous breakdown because nobody quits two months before bonus-time after closing a really big deal.
'He couldn't accept my resignation. I was like: "Please, I just want to get out, I've had enough." And he [said]: "Don't worry, take time off, it happens to the best of us." '
In Damascus, Bashar and Asma now live in a flat with plate-glass windows and their three boys go to a Montessori school.
They are tactful about spending. Though Asma clearly loves fashion — she wears pretty jewellery and well-cut clothes — her shoes might be four years old and her fondness for designer Christian Louboutin stems from friendship and his enthusiasm for Syria.
Louboutin has just bought a 'small place' in Syria's second city, Aleppo, which until recent weeks was becoming an increasingly fashionable tourist destination.
Asma speaks four languages and her connections with France have led her to persuade the Louvre to help her open Syrian cultural attractions.
She has also been encouraging 'active citizenship' — attempting to engage Syrians in promoting 'a spirit of openness'.
No one doubts Asma's sincerity. But observers say her chances of persuading the regime to reform are slim and that many of her worthy plans don't come to fruition.
The reason for this is that Asma is apparently hated by her husband's family and particularly by her mother-in-law (whose late husband Hafez was a brutal dictator).
Also, the country's corrupt institutions offer very little support. Indeed, it is the secret service, the Baath Party and the wider family who really run the country.
Astutely, Asma realises Syria's dilemma: caught between the hard-line Iran and the more West-friendly Qatar.
Thus, in her attempts to reform Syria, Asma is beset with obstacles.
As part of her attempts to get to know the country, she spent the early months of her marriage travelling round incognito in jeans to familiarise herself with the people and their concerns.
Any social reform in Syria has been agonisingly slow — and the crackdown on protesters by Asma's husband over the past fortnight, which has seen at least 60 deaths, will make pro-democracy movements much less likely to succeed.
As for Asma, her East-West loyalties are being sorely stretched. Her dilemma was encapsulated when she established a Facebook page — when Facebook was still banned in Syria.
Throughout Syria, portraits of Asma's dour-looking husband dominate shops and schools, but it is his wife Asma who is acknowledged as the fresher and more beautiful face of the country.
Her possible role as an agent for social change has suddenly come under the international spotlight.
No one knows if Asma al-Assad from Acton can help her husband propel Syria forward. But she is certainly his best bet.
This article first published in The Daily Mail: http://www.dailymail.co.uk/news/article-1373064/Could-doctors-daughter-Acton--Syrias-lady--stop-bloodshed.html#ixzz1IZGSgnIg
April 4, 2011