Gary Malcolm also wants to see list of applications published by Council on this site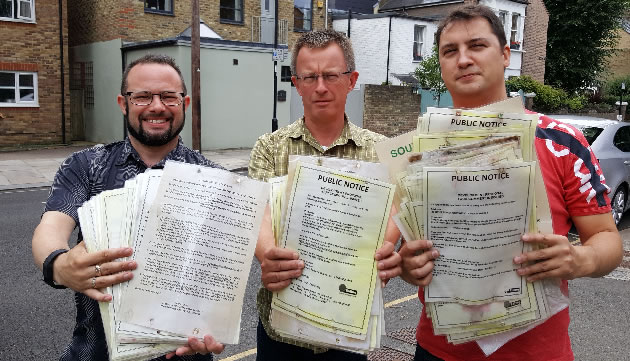 Southfield ward's Liberal Democrat councillors
As we hear the lockdown is going to be extended again it gives much more emphasis for more Council meetings being made virtual, rather than being cancelled.
There are some meetings which often attract a lot of interest and planning meetings are one of them. When the Council cancelled a recent planning meeting it led to many residents being suspicious. People said that Council officers would be making lots of controversial decisions behind closed doors.
The Council has now been trailing the Teams technology on a number of Council meetings. This is expected to mean that the proposed 20 May Planning Committee could take place virtually. Let us not delay any more.
I was involved in the first virtual Council Scrutiny meeting (with my cat present for some of the meeting!) The three Liberal Democrat Southfield Councillors held a Ward Forum meeting recently and that worked really well at engaging with residents.
For the Planning meeting (20 May) there are three possible agenda items that might be relevant to Southfield ward which are:
• Cobbold Mews rear of Greenend Road, Carpark At South End Warple Way – residential build
• Acton Gardens – next phase of reserved matters
• Acton Goods Yard – concrete plant installation
The agenda of the meeting is agreed by the Chair of the Planning committee about a week before the meeting and the agenda and related papers are published here so you can see what items will be discussed.
In terms of the planning meeting itself I am told that most of the aspects will run as normal (although it will be virtual). If a person wants to view the meeting (akin to being in the public gallery) they click the link above to watch the meeting.
If a person wants to speak in favour or against a development, they should speak to the committee administrator (whose name is on the front page of the Planning Committee papers) in advance of the meeting so that they can be shown how to speak at the virtual meeting.
After a recent success, the Council has agreed to extend the length of time for residents to give their views about a planning proposal, from 21 days to 42 days.
Although many people will not see any Council notices to warn them about a possible planning application in their area, the Council has asked developers to write letters to local Conservation Area Advisory Panels' representatives and importantly residents' associations, whom have been asked to write to residents in their area.
I have contacted the Director of Planning to ask whether the Council will agree for local websites covering areas like www.ActonW3.com to publish the weekly planning applications so more people can be encouraged to make their views known. Given Councils often use paper based newspapers alone and many have now either folded financially or are not publishing a paper copy of their newspapers it makes sense for Councils like Ealing to move to a more online method of informing residents.
I hope that the first virtual Council Planning committee works and I urge residents to have their say before a committee meeting by giving their views or attending the committee to see how decisions are being made that affect our local area.
Councillor Gary Malcolm,
Liberal Democrat, Southfield Ward

May 1, 2020