£20,000 will be awarded for local improvements
South Acton Ward has won the top spot for most improved recycling ward in the Borough, bagging £20,000 to be spent on local improvements. Participation rates improved by 6.1% taking them up to a participation rate of 54.5% as they leap-frogged six places in the results table.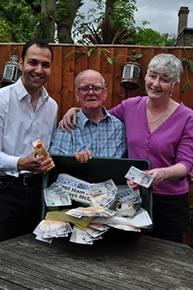 Elthorne and Hobbayne are the joint winners for best recycling ward, splitting £20,000 for their communities after participation rates in both wards reached an impressive 72.7%. Mandeville wards also each pick up a £20,000 cash prize for improving their participation rates by 4.1%.

In addition, Acton Central, Cleveland, Greenford Green, Hanger Hill, Northolt West End, Norwood Green, Perivale and Walpole all improved their recycling participation rates.

The tonnage of waste sent for recycling increased compared with last year thanks to the recycling incentive competition, which was the first of its kind in London.
Cllr Bassam Mahfouz, with South Acton residents Michael Murphy and Sheila Hurley



In the period the competition was running, an extra 370.32 tonnes –of kerbside recycling was collected. This is the equivalent to the weight of 370 classic minis. In total, 2607.72 less tonnes of waste were sent to landfill over the same time period, which equates to savings of £231,148 in landfill tax. This is down to an increase in recycling and a reduction in the amount households are throwing away.
Councillor Bassam Mahfouz, cabinet member for Transport and Environment, said:
"A huge congratulations to all of the winning wards. This competition has shown that it is possible to improve recycling rates and a special mention must go to South Acton, which improved by such a staggering amount. Recycling is so important, not only for the environment but also to save the council money in landfill tax.
Thank you to everyone who took up recycling and helped reduce the amount of rubbish sent to landfill. The money saved can be spent on providing valuable services across the borough. I urge all residents to continue taking advantage of the council's excellent recycling services to recycle as much waste as possible."
For the full results and for more information on recycling and Recycling Rewards please visit: www.ealing.gov.uk/recycling
19 May 2011