Planning Inspector dismisses appeal
Residents who have been campaigning to save an historical building on Shakespeare Road are celebrating after the appeal was thrown out by the Planning Inspector.
In April, Ealing's Planning Committee voted unanimously to reject the development proposal to turn 91 Shakespeare Road formerly the Conservative Party Headquarters for Acton, into 3 terraced houses and 3 flats.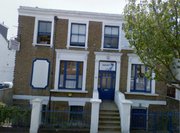 But developers Freeds 2000 Ltd appealed against Ealing's decision.
After looking at a number of issues, Planning Inspector Andrew Freeman, today issued a notification that the appeal has been dismissed,
Local residents have been fighting the plans since early in the year on grounds of over-development, loss of amenity (including overlooking) and a plan to build a hydraulic stacker for car parking.
Campaigner Mark Deitch said he was overjoyed with today's news: '' We won! Thank you so much for your help and support. I am still in shock but very happy.''
7 September 2011