The Holy Family Catholic Primary School will open in 2013
Catholic Schools have had a rather rough time in the Borough of Ealing recently, but they're ready to bounce back with a brand new primary school opening in two years.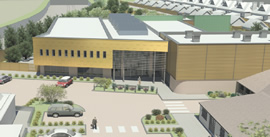 Visualisation of the new school building
If you're impatient to teach your children the ways of Papal doctrine however, the school will be taking pupils as early as next September (in 2012), and teaching them in temporary accommodation until the new (and fancy-looking) building is complete.
The school is being run by the Holy Family Church on Vale Lane in West Acton, and the temporary classes will be taught in their spacious parish hall. They will be accepting two reception classes for the first year, and then nursery and reception as well as the continuing first years once the new school is ready in 2013.
There will be open evenings for prospective parents on 16 December 2011 and 9 January 2012, both at Holy Family Church. The deadline for applications is 15 January 2012, by which time you should have sent a common application form to:
Primary School Admissions, Perceval House, 14-16 Uxbridge Road, Ealing W5 2HL
Or call on (020) 8825 5511. Or, since you're already using a computer, you can complete the form online at www.eadmissions.org.uk/eAdmissions/app
November 28, 2011