Competition to be part of the Ealing Autumn Festival 2014
Related Links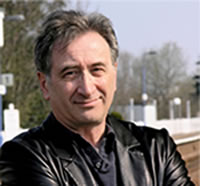 (Above, George Szirtes, who won the T. S Eliot Poetry Prize in 2005)
EALING AUTUMN FESTIVAL 2014
Stars in the Family
October 10th – 26th
Participate
Sign up for our Acton newsletter

Email editor@actonW3.com or comment on the
George Szirtes, one of the leading living poets writing in English, is to judge a poetry competition on the theme of Constellations as part of the Ealing Autumn Festival 2014. The Festival is inspired by the 450th anniversary of the birth of Galileo, the star-gazer and astronomer.
Szirtes is an experienced judge and is himself the recipient of many major awards, including the prestigious T S Eliot Prize for Poetry.
The competition is open to anyone and offers cash prizes totalling £500 for 1st , 2nd and 3rd placed entrants. There are two categories, with one especially for young poets, aged 18 and under. The winning poems will be published on the Ealing Autumn Festival website.
Gillian Spragg, Artistic Director of Ealing Autumn Festival said: "We are obviously excited to be able to announce the Festival's first poetry competition but even more delighted that such an eminent and well-loved poet should have accepted our invitation to judge it.
Constellations is an inspiring theme: looking at the stars always sparks something special in the imagination and we are looking forward to receiving both interesting and outstanding writing."
George Szirtes will announce the winners and present the prizes on Tuesday 21st October when he will be taking the stage at the Ealing Autumn Festival with an event entitled 'George Szirtes and a Family in Artistic Collaboration.' Competition winners will also be invited to read their poems at this event.
For further information about the poetry competition or Ealing Autumn Festival 2014, visit the Festival's official wesite or email them at info@ealingautumnfestival.co.uk
You can also call 020 8567 7623
Closing date for entries for the poetry competition is 5pm, Monday 8 September 2014.
August 11, 2014