Community based centre on corner of Noel Road and Eastfields Road
The newly refurbished community area at North Acton Playing Field's pavilion has opened for business.
The £80,000 of refurbishment works have been completed as part of the council's parks major projects work. It includes a new café and community spaces for meetings, indoor sports and workshops, alongside the existing changing rooms and outdoor space.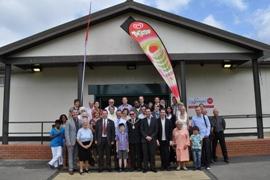 Acton Community Forum is working in partnership with the council to develop a centre that is a focus for community activity and local people's ideas have helped develop a new programme of activities that begin this summer.
Mayor of Ealing, Councillor John Gallagher and Council Leader Julian Bell attended the official opening today (Friday, 5 August) with Cabinet Member for Transport and Environment, Councillor Bassam Mahfouz.
Councillor Mahfouz said: "We're really pleased with the pavilion. There are some great facilities for local people of all ages to use and enjoy. If you're after something to do, or just fancy a cup of tea in the park, then the pavilion has something for you."
Council Leader, Councillor Julian Bell, said: "This project has been a very long time in the making, but we now have a marvellous community facility and all the hard work has paid off. As a local resident myself I am absolutely delighted with the pavilion. My family will waste no time in coming down here and trying some of the great activities being organised by Acton Community Forum."
The new pavilion is in North Acton Playing Field on the corner of Noel Road and Eastfields Road, North Acton and is now open to the public.
08th August 2011

Have you been - what do you think?