Oaktree Anglican Fellowship opens its doors in one of Acton's historic buildings
There is a new kid on the block – so to speak. April will see the opening of the new home of the Oaktree Anglican Fellowship at the top of Acton High Street, number 216. Formerly the home of Age Concern, before they were re-located by Ealing Council to the Michael Flanders Centre, Acton's old fire station has had a bit of work done.
Nestled between Morrisons supermarket car park and The King's Head pub, Oaktree's new building now boasts a main meeting space for over 150 people with it's own coffee bar. The 3 storey fireman's pole still stands as a reminder of the buildings original use as you climb the stairs to 2 meeting rooms on the first floor geared to children and eating with a catering kitchen and, on the third floor 2 more rooms dedicated as a youth zone.

The purchase of 216 Acton High Street was made possible by the sale of an old vicarage on Acton Green. A rare part of the freehold meant that the Diocese of London were able to re-invest over 2 million pounds right into the heart of Acton. Oaktree, who are a non-parish church in the Church of England, say that this is all part of their story. They vacated the building on Acton Green in 2006 and seeing the old vicarage sold, their congregation have been meeting every Sunday in a café at Twyford School.
Making the best of their homelessness Oaktree have pursued a real sense of calling to be in the centre of Acton and seek a base to pursue the projects closest to their hearts. This all came together with the sale of the building being completed early in 2010.
This building and our projects, says Oaktree's minister Mark Aldridge, are about getting as closely involved as possible with the diverse community of Acton. Aldridge's plans include taking on several ambitious projects addressing some of the core social needs of the area.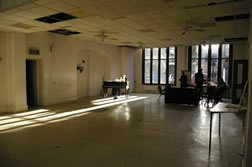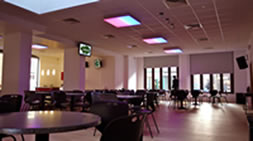 Interior before renovations After the renovations

He refers to the Oaktree-based Acton branch of CAP (Christians Against Poverty), an incredibly well respected free debt-advice service which is open to all. CAP Acton, hit the ground running in 2010, at a time of huge financial difficulty for many local families and has been able to offer specialist advice to many families since then. As well as being able to negotiate with creditors and work out realistic budgets for clients, CAP Acton sets itself the ambitious target of getting even those with the most daunting debt problems, debt-free within five years.
Rev. Aldridge says, 'CAP Acton is an example of just the kind of project which Oaktree is all about; it is there for everyone, irrespective of their faith background; it's there to make a difference; and it's open to everyone who wants to get involved in helping out. We've achieved amazing things in just one year, with the help of our voluntary staff and the good will of so many … and also as a result of the confidence our clients have put in us. It's been a rather humbling experience.'
Mark Bishop, is Oaktree's curate, known by his friends as Mark B, ('as opposed to 'Mark A, the minister', he notes, with a grin). A young, dynamic figure, who looks more like a rock-dude than a church leader, Mark and his excellent volunteers have thrown their energy into a number of outreach projects which have bedded down over the last few years, including a social action initiative mobilising volunteers to the homes of those in need, to offer painting, decorating and de-cluttering.
He is also responsible for Oaktree's much loved 'Market Church Stall' a place where, on a Saturday morning, in Acton Market, passers-by and shoppers are invited to step up for a free hot drink; from 10am – 1pm come rain, snow or shine, a crowd can be seen gathered around the Market Stall; homeless men from the local shelter are side-by side with shoppers, kids keen for a cup of free hot chocolate, volunteers and of course Mark B himself, chatting and sharing a bit of time together. There is something remarkable about the 'Market-Stall' concept; it's simple, slightly old fashioned perhaps ... and incredibly effective!
Oaktree's minister Mark Aldridge expresses his excitement about what the future holds for his Church now its new place at 216, the High Street. 'We want people to feel welcome here in our new building, to feel they can come through the door just to find out a bit more about what we're up to; and we have a base now to get out and about and carry on making whatever difference we can; it's been a long wait for us to have our own home in Acton, but the wait has been worth it and we feel so grateful to at last have a centre we can call home.'
You can meet Oaktree in lots of different ways, from the market stall on the mount through to their Sunday service at 4.30pm every week in their new building.
There will be an official open day, Saturday 2nd April, with live music, craft activities, building tours and free refreshments. There is also an official opening service on Sunday 3rd April with the Bishop of Willesden. All are welcome.
03 March 2011