All change in Acton as refurbishment proposals submitted
Major new plans for The Oaks Shopping Centre have gone on display in Acton, and are now available to view at a new website.

Owners, Acton Regeneration Company Ltd, are proposing a refurbishment programme described as an ' exciting new shopping destination and mixed-use development'.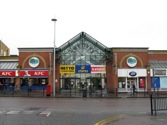 As well as a 'high quality foodstore that will draw more people to Acton' the developers are intending to build 124 new homes.
The proposals include approximately retail units, a residential development above the existing Oaks Shopping Centre, new modern offices, car-parking and improved pedestrian access.
Previoulsy the site of the Globe cinema The Oaks was redeveloped in 1965 as a shopping centre and again in the 1990s. The centre is described as run-down and the featureless car-park in Churchfield Road presents an opportunity for a 'landmark' development.
'Maddox & Associates' believe the new development will bring around 60m investment into the local economy.
A planning application is being submitted to Ealing Council this month and if approved work is expected to start at the site early next year.

For further information, contact Rebekah Paczek on Rebekah@maddoxassociates.co.uk or call 020 3215 0040.
The Churchfield Community Association is hosting a meeting with the developers tonight 18th July upstairs at the Rocket in Churchfield Road at 1930 The new owner and his PR person are coming to talk to local residents about their plans and listen to what we have to say.
18 July 2011