Our regular feature on the people of Acton
Anna Chancellor has been a well-known face on stage and screen since she started acting at the age of 22. She shot to fame with the 1994 hit film 'Four Weddings And A Funeral'. Chancellor has just finished filming The Hour, a six part drama focussing on the BBC of the 1950s, which will be aired on the BBC soon. This week, she can be seen on BBC1's crime drama 'Waking The Dead'. Anna is also an honorary patron of Scene & Heard, a mentoring project that partners inner-city young people with theatre professionals. Anna Chancellor lives in Acton Central with her husband and daughter.


Why did you move from Shepherd's Bush to Acton?
We've been in Acton for three years. I literally looked at hundreds of houses, all over London. One day I found myself in Maldon Road and I thought 'this is really nice'. And then the hairdresser on Churchfield Road, Anthony Bell told me where he lived is the most coveted street in London so I knew I just had to live there!

Favourite things about Acton?
I like Acton because I find it more cosy, especially compared to Shepherd's Bush. There's a modest attitude here. It feels the sort of place where if your child was lost, you could knock on anyone's door and ellicit help. I also love the architecture at Acton Town station. I hate that they're pulling down all of London.

And it's multiculturalism is a good thing. When I hear politicians say multiculturalism doesn't work..they are so wrong.

And I like the fact that no one knows where on earth it is and the general feeling is that Acton a god forsaken place - I find that funny.
I love driving into town and bypassing Shepherds Bush completely, sometimes I wave!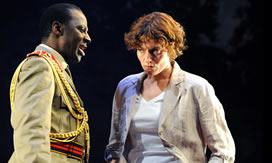 Least favourite things?
I wish they'd bring back the Farmer's Market! I loved going down there on a Saturday morning. If I had my way, I'd open a proper food shop on Churchfield Road where you could buy everything you need - meat, veg, the lot.

Favourite place to eat out?
Right here! (We're meeting in Barbar Restaurant and Bakery in Park Royal, with plates of delicious Lebanese meze, kofta kebab, mint tea and freshly squeezed juices). I love this place.

What's a night out in Acton like?
Sometimes I go to The Rocket on my own!

Acton's best kept secret?
I like walking around Acton at night and looking at the houses. The St.Mary's Burial ground is a lovely place to sit and think and let the dog run around.

I love the fact that you can get a pedicure, marvellous blow-dry and some luxury waxing all at in Churchfield Road and not a high street shop in sight.
Oh yes, my jumper. (She points to the soft green knitted cardigan she is wearing). A lady in Acton Market made it for me.




Do you know someone in Acton who has made an impact on our community? Email editor@actonw3.com
March 29, 2011