Good mood food now available on High Street on Saturdays
MindFood is a social enterprise co-founded by local Acton resident Ciaran Biggins. It supports local people with mental health issues to recover through growing food and is setting up a market stall with a difference from this Saturday at Acton Market.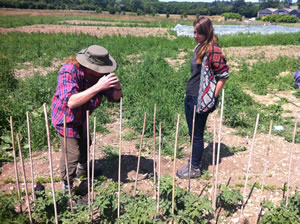 MindFood grow all of their produce using organic principles, meaning there are no sprays, no chemicals and the food is just as nature intended. MindFood describe their produce as 'good mood food', because the profits get reinvested back into helping support people with mental health issues, but also because the food is natural, nutritious, local and fresh.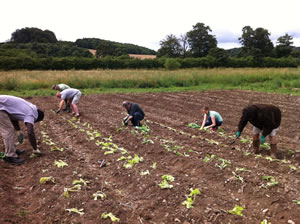 Ciaran says that this is a really special moment for MindFood, our co-workers and for him personally.
MindFood was partly inspired when Ciaran was volunteering with Oak Tree Church in Acton where he was involved in their Market stall that used to offer free tea & coffee and a friendly ear to passers by on Saturdays at Acton Market.
He says: 'Every Saturday I was really moved by the amount of people that we would talk to that had mental health issues and who seemed so frustrated and boxed in by not having anything productive to do or often nobody in their life to encourage them that they were of worth.'
MindFood is now working to address this need by partnering with local charities such as CAPE, Mind in Ealing and Hounslow and Green Corridor to offer people in mental distress an opportunity to come out to their 14 acre farm based in an area of outstanding natural beauty to recover and be equipped with new skills and gain confidence. The people that MindFood supports are called 'co-workers' as they are integral to everything that MindFood do.
The farm initially provides a therapeutic environment and space where people can reconnect with the natural world in a calming and open space. MindFood's horticultural therapist then works with the groups of co-workers to educate them on the science of growing and leads sessions where the groups get to put what they've learnt into action. The co-workers will learn everything from propagating seeds through to harvesting and in doing so build their confidence that they can do something, that they are of value and that they can achieve. Ciaran says 'they literally see the fruits of their own labour. '
The market stall is the final really important piece in MindFood's support offer as it will be run alongside some of the co-workers that have been out to the farm. Ciaran says, 'for a co-worker to go through the process of planting a seed, watch it grow, care for it and harvest it and then personally sell it on our market stall is going to have a huge impact on peoples self worth and confidence.'
MindFood will be selling a range of organically grown produce from 10am until 2pm during August, September and October, including courgettes, bunched beetroots, broccoli, salads, tomatoes, runner beans, cabbage, cauliflower and various herbs.

MindFood hopes that the W3 community will get behind them and support their stall this and every Saturday for the next couple of months.
Visit www.mindfood.org.uk for more information and to see how you can get involved.

August 15, 2013