Claim made that plans approved were different to those available to residents
A plan to build a block of flats on Messaline Avenue has met with opposition from local residents.
The scheme was given approval by Ealing's Planning Committee earlier this month but opponents are saying that, not only is the development of too high a density for the quiet residential street, but proper procedure was not followed in the approval process.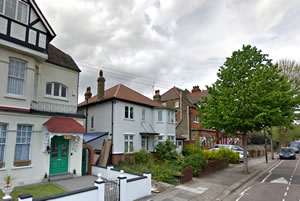 The house on Messaline Avenue to be demolished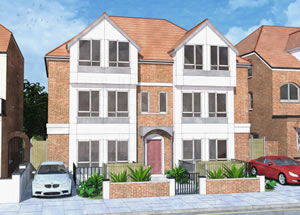 Flats planned for Messaline Avenue
The application is for the construction of three storey building, with basement, comprising of 8 self-contained flats (2x3 bed and 6x2 bed following demolition of existing building.
D G Tennant, spokesperson for objectors, said, "The Planning Committee - in spite of very strong protests from Messaline Avenue residents - granted a developer permission to demolish a perfectly sound house in the Avenue to build a block of flats, with a huge basement which halves the size of the garden. This means that one property in the street will have 30 people squeezed into it, compared with the typical family homes in the street which have between 2 to 6 people."
Mr Tennant claims that the committee made its decision using a different set of plans to those that were available on the Council web site for viewing by residents.
He says, "On two occasions in the week leading up to the Committee meeting, I asked for any new plans to be put on the website so that residents could see them and possibly comment upon them. The planning department would not do this, and the new plans (on which the 5 August decision to grant the application was based) were not made available to the public on the website until 10 August, 5 days after the decision had been made. It is a scandal. "
He described the level of debate that took place when the application was under discussion as 'a farce' saying it only took five minutes for the committee to approve the scheme by a 10-2 majority. He further claims that the lack a spokesperson to represent the developer at a meeting suggests that the issue was a 'done deal' and called the Planning Committee 'notoriously anti-Acton'.
We have asked Ealing Council for a comment on the issue and await a reply.

August 20, 2015