Free Recipe Cards Available at Acton Library
Related Links
Cooking was inspired by London Transport Museum Archive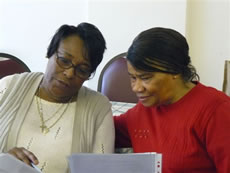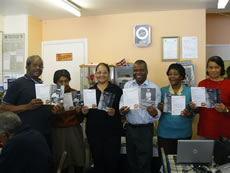 Members of the United Anglo-Caribbean Society with the recipe cards
Have you been to the Library recently? Comment on ActonW3.com Forum
Acton Library
High Street, Acton W3 6NA.
Tel: (020) 8752 0999; fax: (020) 8992 6086.
Email: actolib@ealing.gov.uk
Open: Mon , Fri and Sat 9am-5pm; Tues, Wed, Thurs 9am-7.45pm; Sun 2pm-5pm. Wheelchair access.

Cash Injection for Acton Swimming Baths
Participate
The United Anglo-Caribbean Society and London Transport Museum have teamed together in an unusual and exciting community project entitled 'What's Cooking' to produce a set of recipe cards which are now available from Acton Library.
A group of members from the United Anglo-Caribbean Society in Acton worked with the Museum to developed the recipe cards inspired by dishes once cooked in London Transport canteens. The recipes have been adapted to the group's culinary tastes. All have been tested and are ready for you to try out at home.
The group was inspired to experiment by London Transport Museum's catering archive. The collection includes everything from industrial egg slicers to cute cookie cutters and is full of fascinating objects, photographs and documents. Exploring the stories held by its objects, photographs, and documents kick started a three-month project.
The four traditional recipes 'with a twist' include Caribbean bread and butter pudding and Fish cakes with a kick. The cards will be available at the London Transport Museum in Covent Garden as well as Acton Library.
These delicious dishes reveal not only peoples' personal culinary tastes but also reflect the way in which London Transport recipes evolved across the capital's canteens according to the culture and tastes of the staff that cooked them.
The What's Cooking project was a three month programme from the United Anglo-Caribbean Society and London Transport Museum that aimed to use Museum objects to inspire creative responses as well as highlighting the voices of one of London's many communities.

'What's Cooking?' is part of London Transport Museum's New Routes projects, a programme of community exhibitions and partnerships aimed at involving new audiences. New Routes forms part of the Revisiting Collections initiative that extends across all London Hub museums and is funded by the Museums, Libraries and Archives Council (MLA) London.

London Transport Museum re-opened on 22 November after a two-year closure and a £22.4 million revamp. New galleries include Design for Travel, World Cities and London's transport at war.
The Museum has been long-listed for The Art Fund Prize for museums and galleries. It joins nine other UK museums and galleries to compete for the coveted £100,000 Prize. People can support the Museum by posting their comments on www.artfundprize.org.uk .
London Transport Museum Admission:
Gift Aid admission: Adults £10; Senior citizens £8; students £6.50
Standard admission: Adults £8; Senior Citizens £6.50; Students £5.00
April 23, 2008