Jenny Kwan was a talented and active member of SASAC and other groups
Participate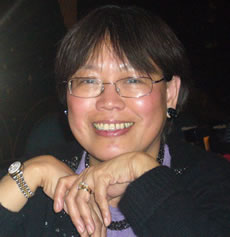 Jenny Kwan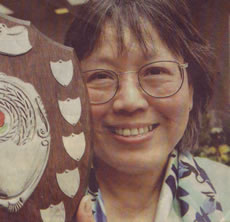 Jenny with a prize she received for flower-arranging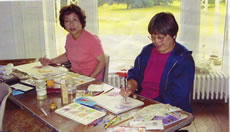 At SASAC (Jenny is on the right)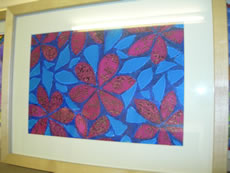 The vibrant collage which Jenny created for the SASAC/London Transport Museum exhibition
Sign up for our free weekly newsletter
Comment on this story on the
Jenny Kwan, who died earlier this year, was well-known to many in Acton as a talented and creative participant in local arts and crafts groups. She was married to Chris, who runs the wonderful Tung Hing Chinese Supermarket in Cowley Road, off the Vale.
We spoke to Chris Kwan recently about his wife and mother to their three children who died aged only 56 early this year.
Jenny is remembered with great fondness by everyone at South Acton Skills and Arts Collaborative (SASAC) where she was an enthusiastic participant in various projects.
Jenny Kwan arrived in the UK from Malaysia aged 19. She trained and qualified as a nurse at Claire Hall in Potters Bar Hospital.
In 1980, she married Chris and after working as a nurse for a while she became a pay-roll supervisor for Unigate which used to be based where Westfield Shopping Centre is now. Jenny continued working at Unigate full-time until she died.
The couple had three children: Amy (now a qualified doctor), Ian and James (both at university).
Jenny was diagnosed with lung cancer in 2001. She was then just 48. Chris told us: "The doctors gave her one year - when they found the tumour it was the size of an apple." However, she fought the disease with great courage but eventually grew very ill earlier this year and was 55 when she died.
Chris remembers how determined Jenny was to see her daughter Amy qualify as a doctor. "Once she had done that, she said that she wished she could see Amy get married." Amy was married in October and sadly, Jenny's condition deteriorated rapidly after that.
Jenny showed enormous strength and determination throughout her illness. She decided that she would fill her time with lots of activity and took up flower arranging, painting, art and crafts. She also organised group trips to the theatre and started exercise classes. Chris says: "She was a very quick learner." People who met her say she had a magnetic personality and wherever she went her charm and good humour meant that she made friends very easily.
Jenny won prizes for her flower-arranging. The work she completed as part of a joint SASAC/London Transport Museum exhibition shows that she also had a wonderful talent for sewing and collage. Paolo, who was her tutor at SASAC, told us: "Jenny was a well-loved member of the sewing group at SASAC which she joined soon after she learned about her illness. She was lively, active, very artistic and talented."
Jenny is much-missed by her family and friends and by all those she met through her activities, many of whom were amongst the 250 people who attended her funeral at St Mary's Church and in the Church Hall.

May 7, 2009