Welsh hero Hal Robson-Kanu attended John Perryn School
Welsh fans have praised their team who got knocked out of the Euro Semi-Finals nation last night.
They'll want to forget their 2-0 defeat against Portugal and remember instead their 3-1 stunning victory over the Belgium helped by a player from Acton.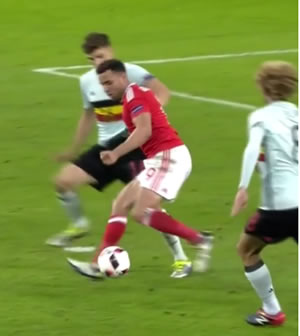 Hal Robson-Kanu about to make a Cruyyf turn
With the scores level, Acton born Hal Robson-Kanu perfectly executed a 'Cruyff-turn' in the Belgian penalty area to bamboozle three defenders and put the ball in the back of the net. It is believed the move, which is named after the legendary Dutch footballer who died recently, has never been used to score such a decisive goal in a major tournament before.
Hal attended John Perryn School and in 2013 he visited the school and presented them with one of his Welsh international shirts. Hal impressed staff and children and told them to work hard and aim high. As guest of honour he handed out House cups and awards for punctuality.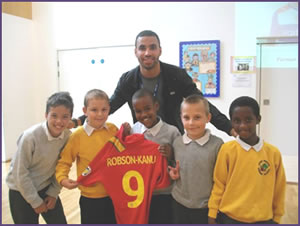 Hal Robson-Kanu visits his old school. Picture: John Perryn School
He has an unconventional background for a footballer spending much of his childhood in Gordon Place, Kensington which backs onto Kensington Palace. His grandfather was the Vicar of Kensington for 22 years. This gave Hal the opportunity to play football in one of the area's famous communal garden and on many he had to ask his neighbour King Hussein of Jordan to throw his ball back.
He originally signed for Arsenal and represented England at U-20 level but eventually opted to represent Wales for whom he qualified through his grandmother, Elizabeth, who is from Caerphilly. This season he played for Reading in the Championship but his contract was not renewed at the end of the season so he is technically unemployed. He was hoping to get picked up by a team in the Premiership and his chances looked to have increased dramatically after his wonder goal.

7 July 2016 ( updated )