Owner distraught after beloved Jaz attacked on Goldsmith Avenue
A cat owner has called for a toughening up of the law after his beloved pet was killed in Acton by a dog belonging to resident in a nearby street.

Paul Higham says it is farcical that a dog owner is required by law to pick up their dog's faeces but appears to have no such obligation when their pet harms another animal.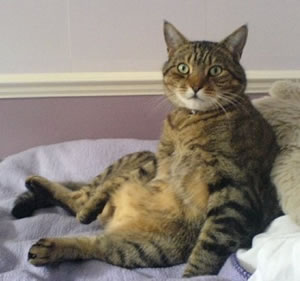 On the 23rd October, Paul's cat Jaz (pictured above), was sitting on the front doormat of their home. The dog's owners thought they had secured their dog with a makeshift tether but it chewed through the leash and escaped from the house through a front door that had been left open by builders.

Paul praised the 'courage and compassion' of the dog's owners who were distraught when they heard what had happened and came round to apologise. Nevertheless, Paul is unsure as to how he would react if he saw the dog in the area again. He has since spoken to a local vet who told him this kind of attack was rare but his own research has shown it is more widespread than might be expected.

Paul said of Jaz, "He enriched our lives so much for 14 years, and we already miss him terribly – especially given the nature of his death. He was well-known and well-loved up and down Goldsmith Avenue, and we know he will be missed by others too."

The hope is that by publicising the incident future attacks of this nature can be avoided, Paul said, 'Pets come into our lives asking very little of us and give us a wonderful and unconditional return. And whilst allowing them their freedom to roam, we also need to be mindful of the sometimes horrific consequences.'

His view is that dogs should not be allowed off their leads in residential areas either by accident or design. He often sees dogs running loose in the area and has been the subject of abuse if he has said anything to the owners.


November 1, 2012