Punishment for non-compliance includes fine and imprisonment
Related Links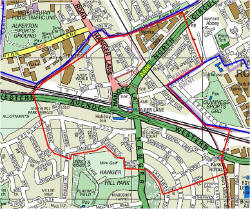 Map showing Dispersal Zone around Hanger Lane Gyratory
To remain or return to this area having been told to leave is an offence under Section 32 of the Anti-social Behaviour Act 2003, punishable by 3 months imprisonment and/or a fine not exceeding £2500.

A notice will be displayed in the affected area announcing the end of the authority when it no longer applies. For further information, contact Ealing Police Station on 0208 246 1212.
In an emergency always dial 999
Ealing Borough Police Website

Safer Neighbourhood Teams
East Acton Ward 020-8721 2708
e: eastacton.snt@met.police.uk
South Acton Ward 020-8649 3574
e: southacton.snt@met.police.uk
Acton Central Ward 020-8721 2921
e: actoncentral.snt@met.police.uk
Southfield Ward 020-8721-2946
e: southfield.snt@met.police.uk
Bag Snatch from Retired Lady on Perryn Road
Participate
Police have been given new powers to stop windscreen washers and flower sellers in the central reservation around Hanger Lane Gyratory.
The dispersal order will also deal with groups who congregate in shop doorways or use the subway system to drink alcohol.
The order started on 25th March and remains until 25th September 2010. It covers Hanger Lane, A40, A406 and all streets enclosed within marked area - please see map (right) for details.
During the times and dates specified above, a Constable/PCSO may give one or more of the following directions:
• Tell people in the group to leave the area (either immediately or at a stated time and in a stated way)
• Tell people who don't live in the area to leave (either immediately or at a stated time and in a stated way)
• Tell people who don't live in the area not to return to the area or any part of it for a specified period (not exceeding 24 hours) from the time the direction was given.

If you are under 16, you may not be within the specified area between the hours of 9pm and 6am, unless under the effective control of a parent or responsible person over the age of 18.

If found in the dispersal zone between these hours, under 16s may be removed to their home or to a place of safety if more appropriate.
April 9, 2010