Disappearance is "totally out of character"
Participate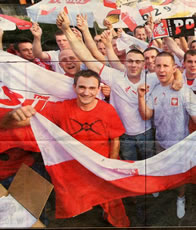 Dawid (in red t shirt) celebrating with others outside the Windmill Pub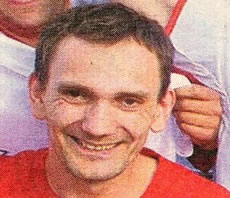 Dawid Mizk is missing
If you have seen Dawid or know of his whereabouts please contact Ealing Borough Police Missing Person Unit on 0208 246 1040.
If you wish to remain anonymous phone Crimestoppers on 0800 555 111.
In an emergency always dial 999
Safer Neighbourhood Teams
East Acton Ward 020-8721 2708
South Acton Ward 020-8721 7189
Acton Central Ward 020-8721-7190/020 8721 2921
Southfield Ward 020-8721-2946
Crime Prevention Office 020-8246-1252
South Acton Drug Addicts Preyed on Elderly Residents
Break-in on Old Oak Common Lane
A missing person appeal was issued last week by the Metropolitan Police Press Bureau.
Police are growing increasingly concerned for the welfare of Dawid Mizk, aged 31.
Dawid was last seen, at approximately 9:00pm at his home, a residential address in the London Borough of Ealing, on Sunday 8th June, when he went out without telling his house mates where he was going.
Police know Dawid was at the Windmill Public House in Acton, West London on the evening he went missing.
He was photographed by a photographer for The Sun at approximately 6:30pm outside the public house with a group of Polish supporters prior to the start of the Germany v Poland Euro 2008 group match.
Dawid is a white Polish national, 5' 09 - 5' 10, slim build, short brown hair, brown eyes, clean-shaven and has a tattoo of a smiling mask in blue on his shoulder.
He was last seen wearing a distinctive red t-shirt (as in the photograph) and grey shorts.
Dawid has lived in the UK for approximately 1 year, speaks broken English and has worked as a tiler and an electrician during that time.
Members of the public may also know Dawid by one of two nicknames Slesz or Jezus.
Detective Inspector Phil Easton, Ealing Borough Missing Person Unit states:
"Although Dawid is an adult his disappearance is totally out of character and his family and friends are keen to know he is safe and well.
"We are keen to speak to speak to anyone who was at the Windmill Public House in Acton on the evening of 8th June."

August 15, 2008