Handgun pulled on booking clerk at station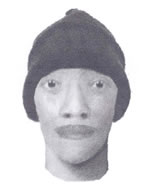 Police are appealing for help in identifying a suspect in an armed robbery at Acton Mainline station.
The incident occured at 6.50am on Wednesday 10th November. The suspect (represented in e-fit right) attacked booking clerk when he opened the ticket office. He took out a small semi-automatic handgun and cocked the weapon in front of the victim.

He then made away with cash mostly coins, which was placed into a yellow Sainsbury bag.
The suspect is described as mixed race, 6ft 3" tall with a thin sparse moustache and a thick woolly hat with a logo to one side. He was wearing a distinctive three-quarter length royal blue quilted jacket with a stitched diamond pattern which could be described as a 'Barbour' style but was made of a cotton material - not waxed. He was also wearing a dark blue scarf and a pair of well worn stone washed blue baggy jeans.
If anyone has information as to the identity can identify the suspec please contact the AIB on the above number or DC Sean Burke of British Transport Police at Paddington on 020 7922 6656 or 0800 40 50 40.
November 24, 2004