Man suffers 'life changing' injuries after being trapped under wheels for 6 hours
A cyclist suffered what police are describing as "life-changing" chest and leg injuries after being trapped beneath the back wheels of a six-tonne skip lorry for over an hour. Horrified eyewitnesses saw 46-year-old man being dragged beneath the fully-laden lorry as they both turned left from Uxbridge Road into Askew Road yesterday (April 9th) at 4.45pm.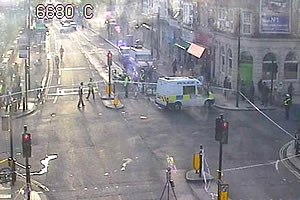 Picture: @tfltrafficalerts
Emergency crews spent more than hour rescuing the cyclist who was then rushed to hospital with chest and leg injuries. The driver of the skip truck was questioned by police at the scene and was not arrested.
Police said today the man was being treated in a central London hospital, where he is in a serious but stable condition.
Witness Joseph Sokhn told the Evening Standard: " I heard the bang and turned to see the truck and he was underneath it between the two back wheels. You could see his body squeezed in.The bike was behind the lorry completely crumpled, you couldn't tell which part was the front.
"The lorry could not move because it would have crushed him. The driver looked horrified and was sitting in his seat.
"I don't know how the man survived."
The accident caused gridlock along Uxbridge Road, which is one of London's main commuter routes.
April 10, 2014