Paparazzi gather at playground vying for photos
Related Links
All photos copyright Sebastian Remme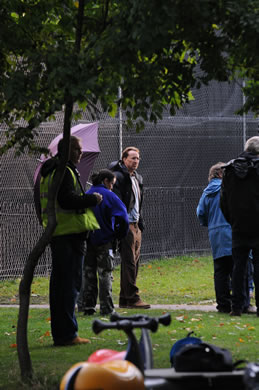 Nicolas Cage in Acton Park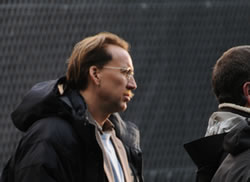 New look Nicolas Cage (note the moustache)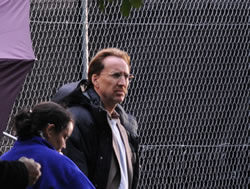 Another close-up
Participate
Sign up for our free weekly newsletter

Comment on this story on the
Anyone who noticed part of the playground in Acton Park fenced off, blacked out and generally out-of-bounds recently will have wondered what was going on. A local photographer snapped these photographs of Hollywood superstar Nicolas Cage who is filming Matthew Vaughn's latest movie - a comic book adaptation called Kick-Ass.
Eyewitnesses reported that Cage was kept away from the prying eyes of Acton celebrity spotters and a few paparazzi who had gathered in the park on a rainy Sunday earlier in September. One told us: "He was so keen to avoid the public he was even ferried across the park to the on-location vehicles in a blacked-out limousine."
Bouncers tolerated a few locals taking snaps, but once the paparazzi arrived with long lenses, they made sure Cage was shielded from view but our photographer cleverly managed to take these pictures.
Cage owns homes in Los Angeles, the Bahamas, Rhode Island and Midford Castle, near Bath. The Oscar-winning (for Leaving Las Vegas) actor was recently forced to pay £650,000 (£378,000) in back taxes and penalties to the US Internal Revenue Service after he was accused of wrongly writing off almost $3.4m (£1.9m) in personal expenses.
He plays a former cop trying to bring down a gangster at the top of the drugs racket, who has also trained his daughter to be a lethal weapon.
The comic book centres on a teenage boy who decides to become a superhero despite having no discernible powers, nor any of the traditional angst of cape-wearing types. It is based on the ultra-violent Mark Millar series. According to reports, Matthew Vaughn, who is directing the film, managed to persuade private backers to fund the project after traditional studios balked at its subject matter.
Aaron Johnson (who recently starred in Angus, Thongs and Perfect Snogging) will play the title character - also known by his real name, Dave Lizewski. The story sees him eventually run into trouble during his superheroic endeavours when he runs into some real villains.
Desperate Housewives' Lyndsy Fonseca (daughter of Katherine) will play the object of Lisewski's affections.
September 19, 2008