TfL's reorganisation believed to disadvantage West Acton residents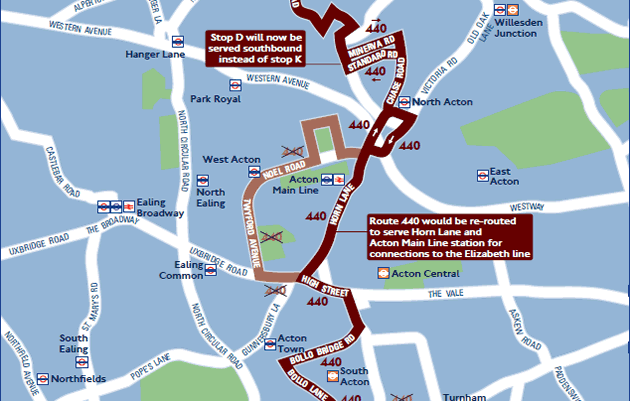 Some major changes to the bus network in the Acton area by Transport for London have been confirmed as part of the one of the largest ever overhauls of the service in the capital.
They are to proceed with the redirection of route 440 away from Twyford Avenue to provide a more direct connection with Acton Mainline station which provides a link with the Elizabeth line.
Concerns have been expressed that the changes will have a very negative effect on West Acton residents, particularly those who need to visit Central Middlesex Hospital regularly and a formal complaint has been made to TfL over what some residents are saying was an inadequate consultation.
They will not be implementing the original changes proposed to the route between Acton and Chiswick. However, there has been a subsequent proposal for this route which was consulted on at the same time as the changes for the 27 and TfL is still considering these plans as well as an extension of the route towards Wembley.
Part of the lost service will be replaced by the new route 218 which will run between North Acton and Hammersmith via West Acton, Acton High Street and Askew Road using single-deck buses. However, it will run every 12 minutes during Monday to Saturday daytimes rather than every 10 minutes and every 20 minutes during Sundays and evenings rather than every 15 minutes.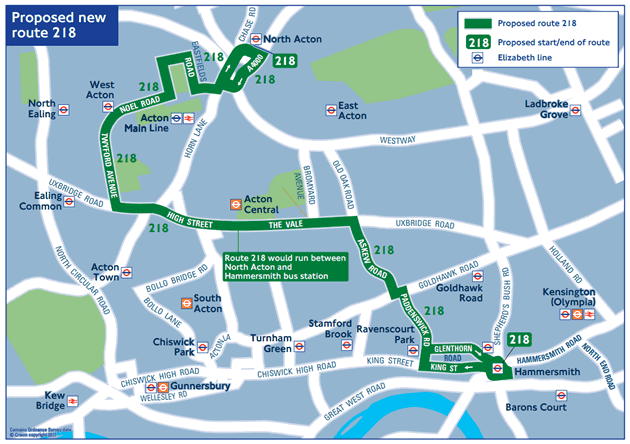 Under the late proposals for the 440 which TfL have just consulted on, travelling southbound the bus would run – as it does now – along Bollo Lane. Instead of continuing past Weston Road towards Chiswick Park station, it would turn right into Chiswick Business Park. It would then run through the business park – following the same alignment as route 27 – but instead turn right onto Chiswick High Road before turning left onto Oxford Road North. It would then run along Wellesley Road / Heathfield Terrace and around Turnham Green. It would then turn left back on to Chiswick High Road and left again onto Town Hall Avenue to start its northbound journey through the business park (following the above route in reverse).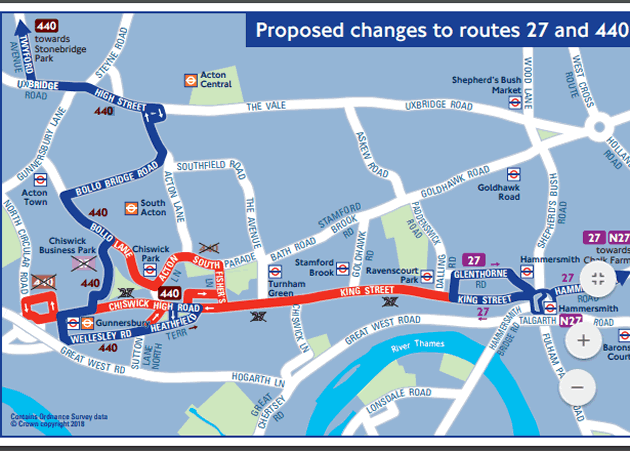 Earlier this month additional major changes were revealed to bus services in the central London area by TfL with a significant reduction in the number of buses going into the centre of town. They said that this would free up resources for the expansion of services in outer London but the Ealing area does not seem to be benefitting from this switch.
The changes that are going ahead are:
There is to be a significant reduction in route 427 that runs between Uxbridge and Acton.
The frequency of the E3 service is to be significantly reduced however proposed cuts to the level of service on the E1 are not now being implemented.
Proposed increases to route 120 are no longer going ahead
Larger single deck buses are to be introduced on the E10 route
Plans for the extension or route 112 between Ealing Broadway and Osterley have been scrapped but TfL they will be consulting on revised plans for this area in due course.
TfL are significantly cutting the number of routes serving the centre of town to reduce congestion. Notionally this is to increase the number of buses serving outer London but Acton doesn't seem to have benefitted from this switch yet possibly because TfL feel that more people will switch to using Crossrail.
Director of public transport service planning Geoff Hobbs said, "Buses have a crucial role to play in boosting the number of people walking, cycling and using public transport.
"As set out in the Mayor's Transport Strategy, we're currently looking at how we can adjust and reorganise the bus network to ensure it reflects a rapidly changing London, including planning for year-on-year increases in bus kilometres in outer London. We need to modernise and simplify the network and ensure that bus capacity is in the right places at the right times.
"We're currently working closely with London's boroughs on a potential set of proposals and they are helping shape our plans. These changes will also be subject to full public consultation before they're put in place so we can hear from customers."
In nearby areas there are more sweeping changes with the number 10 bus route from Hammersmith set to be scrapped altogether and the number 9 rerouted from Pall Mall to Piccadilly. Route 11 from Fulham Broadway will now only serve Victoria to Liverpool Street. A new route 311 will run between Fulham Broadway and Oxford Circus via Victoria and Mayfair to retain links broken by 11, 19 and 22 cut backs. TfL will amend route 23 to run between Westbourne Park and Hammersmith as an alternative to route 10. The amended route 23 will continue to run between Westbourne Park and Marble Arch, but will then follow the existing route 10 from Marble Arch to Hammersmith. TfL plans to implement these changes in November 2018.
TfL intends to withdraw routes 113 and 159 between Oxford Circus and Marble Arch. Route 94 between Piccadilly Circus and North Row will be withdrawn during the day. These changes will be in line with the phased opening of the Elizabeth line or in response to wider bus network changes. Night bus services on route 94 will continue to operate to Piccadilly Circus.
A TfL spokesperson said, "The drive/rationale behind it all is that the usage of buses in central London has significantly dropped as there are so many alternatives (either upgraded rail or better cycling facilities) meaning there are just more buses than we need in central London, sometimes then causing bus-on-bus congestion."
August 30, 2018