Bollo United show great spirit but lose first match
Related Links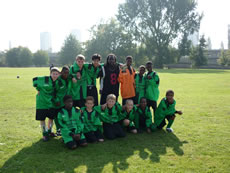 Bollo United with coach Cliff Morgan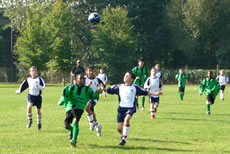 Bollo United in action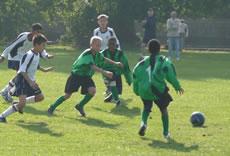 Spirited play by both teams
If you would like to find out more, or if you are interested in promoting the team, Huey can be contacted on: 07788 635832 or via email: bollounited@hotmail.co.uk
Participate
Sign up for our free Acton newsletter

What are your views on Acton Park? Email editor@actonW3.com or comment on the
Bollo United Under 12's played their first game of the season last weekend - on the the ground they are currently using outside Acton - and showed some exhilarating form. It is expected that they will build on this as the season progresses, though their opponents Manor Youth proved too strong for them after beating them 3-1 this weekend.
Their coach Huey Reid said: "We will put it down to nerves and I guarantee it won't last. This was their first game back for a long time."
Their goal was scored by Raven Thomas in the first half which ended 1-1. But Manor overpowered them during the second half.
The team should be proud of their performance and their spirit. Their behaviour on the pitch - and the behaviour of their supporters on the touchlines was impressive.
The team travelled to Carville Hall Park in Ealing in a bus lent to them by Active Ealing. Their sponsors D&A Hairdressers and Dynamic Duo Events paid for the ground hire and their kit.
Huey Reid told me he had moved his training sessions from Acton Park to Carville Park because Acton Park isn't suitable for football. The Funfairs have "Smashed up the ground" making the pitch uneven and potentially dangerous. Also, he told me: "We always had a problem with the goalposts which were taken down too early and put up too late to coincide with the football season."
Other possible venues in Acton were too expensive. Huey is campaigning to be able to use Berrymede Grounds. He says "This should be a multi-games pitch with grass for football. Currently it's not maintained properly, but the facility is there and we would love to use it if we could. Having this available to us would take a lot of kids off the street. We did use it for our holiday football camp, but it's not a possibility for serious training."
The Headmistress of Berrymede Junior Mrs Lubna Khan agrees with Huey: "The grounds are in a dire state and need investment and proper maintenance. Grass needs to be planted and if it was properly kept that patch of field could be of benefit to the whole community. It is used for events now but it could be so much better and safer."
South Acton Councillor John Gallagher told me: "I did a report over the Summer which I have sent to the Youth Provision Scrutiny Committee along with other appropriate officers. This looks at the field in question and some of the other land including bits of land around the Youth Club. We need this land to be more accessible and all the officers concerned had my report at the end of August. We have £1 million capital to spend on a project such as this and I am waiting for someone to respond to me about this matter."
We will be delighted to report on any developments which might mean that Bollo United, young people in South Acton and schoolchildren at Berrymede Primary School can benefit from well-maintained open spaces in Acton.
We also wish all the talented players at Bollo United luck for the new season.

October 3, 2008