Angela Lyons prohibited from entering centre of Acton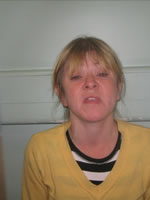 Angela Lyons, 43, given ASBO
Officers from the Acton LBE Team have obtained an Anti Social Behaviour Order against a 43 year old woman, Angela Lyons a street drinker in Acton Town centre.
The public and members of the Ward Panels regularly complain about the street drinkers in the town centre. The street drinkers are involved in anti social behaviour, crime and create a negative impression of Acton.
Acting Police Sergeant Gray and his Acton LBE team have for the last 18 months been conducting a Street Drinking Project. The Street Drinkers Project works in partnership with Police, Council and outreach services. This project has had a dual purpose, in that not only was it to deal with the anti social behaviour related crime and disorder, but also to gain the trust of the entrenched street drinkers and give them every opportunity to remove themselves from their chosen lifestyle through outreach agencies. Sadly there are a few subjects that have taken advantage of this assistance, but also continued their unacceptable behaviour.
The Acton Police LBE Team have targeted these problematic drinkers and have 21 nominated subjects that we are looking at for ASBO restrictions. In liaison with the Acton Central Ward officers a comprehensive ASBO application was provided to Ealing Magistrates Court.
Angela Lyons had been subject to repeated alcohol seizures, Section 27 Dispersal, arrest for public order offences and breach of police bail.
On the 7th of February 2011 at Ealing Magistrates Court she was finally issued with an Anti Social Behaviour Order with effective and enforceable conditions.
Angela LYONS is prohibited from:
1. Entering marked yellow highlighted area on the map (postcode of W3), with the exceptions, being on public transport, without alighting and to attend a pre-arranged doctors appointments at the HILLCREST SURGERY, UXBRIDGE ROAD, ACTON W3.
2. Being drunk or consuming alcohol in any public place, other than licensed premise in the London Borough of Ealing.
3. Being in possession of any form of open vessel of alcoholic beverage in any public place within the London Borough of Ealing.
4. Being together in a public place with two or more persons drinking alcoholic beverages and behaving in a manner likely to harass, alarm or distress to members of the public in the London Borough of Ealing.
16 February 2011