85 year old Acton resident Anthony Smith and his crew

Four English adventurers led by 85-year-old East Acton resident Anthony Smith have set sail 2,800 miles across the Atlantic on a raft made from plastic gas pipes. The quartet are hoping to raise £50,000 for the charity WaterAid. To sponsor them, go to the JustGiving page here.
Acton resident Anthony Smith and his three crew members have finally reached land after 65 days at sea on a plastic raft.
They landed on the island of St. Martin in the Caribbean early on Wednesday morning. The former television presenter celebrated his 85th birthday last week as he and his team of over 65's completed their 2,800-mile (4,596km) voyage to highlight the fact a billion people worldwide live without clean water.
Follow The Voyage here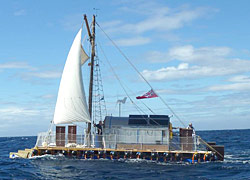 The An-tiki Photos: Robin Batchelor



07 April 2011