Singer was born in house on Churchfield Road destroyed by V1 rocket
An unveiling ceremony was held this Wednesday afternoon (19 August) for a plaque in honour of Adam Faith.
Deputy Mayor, Cllr. Patricia Walker, unveiled the plaque in Acton Park to commemorate the singer and actor who was born in a house on the site just inside the Park on 9 October 1940. A few years later the house was hit by a V1 bomb and the family had to move to 18 Goldsmith Road, just over the other side of the level crossing.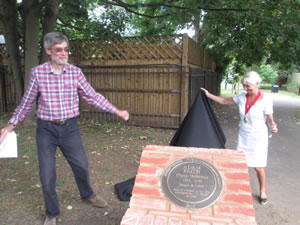 The moment of unveiling of the Adam Faith plaque: Picture - Tom Doran
Acton History Group have been researching his early life and found his birth certificate listing his birthplace as 4 Churchfield Road East. The Group asked the Council's Acton Central Ward Forum to meet the cost of the plaque which was erected on the site of the house.
His widow, Jackie who lives abroad saw a picture of the plaque and commented, " I think the plaque is lovely and Terry would be as pleased as punch" She and her daughter will be visiting the plaque later when they're in the country next.
His cousin Jim Nelhams was present and so was Peter Thorp and John Rogan who played along with Adam in the pop group Roulettes.
Born Terry Nelhams, Adam's mother Nell was a supervisor in a cleaning firm and his father Alf a coach driver. His big hit record "What Do You Want?" topped the pop charts in December 1959. Another No.1, "Poor Me", followed in January 1960 An established star in the 1960s, he also acted in films and plays, often switching from music to acting when his record career began to tail off. He's remembered for his appearances in the TV series "Budgie" in the early 1970s and later playing with Zoe Wanamaker in "Love Hurts" in the early 1990s. He died in 2002 while on tour acting in a production of "Love and Marriage".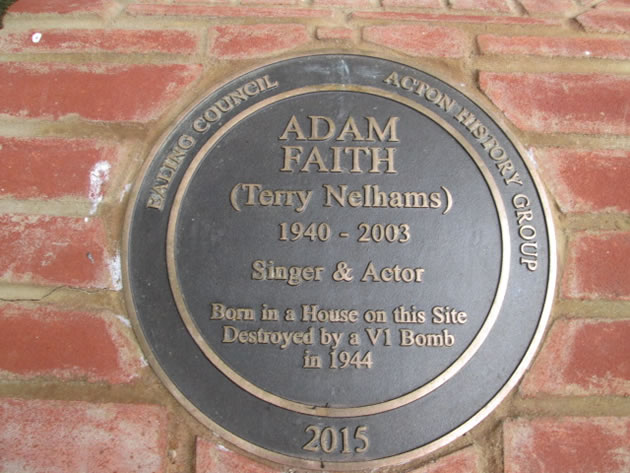 Detail of the Adam Faith plaque
Other plaques the Acton History Group have been involved in recently are the one to commemorate the first Waitrose shop, now Babylon Pizza, just opposite Acton Police Station in Uxbridge Road; and a plaque to celebrate "Winnie the Pooh", the bear inspired by one of the toys made by the Farnell factory on the site of Twyford School.
Acton History Group Chair, David Bays commented: "Our thanks go to the Council's Forum for approving the idea and installing the plaque so that future generations will be able to visit and see the spot where an international star made his humble beginnings".

August 20, 2015