Honour awarded to former home of Richard Titmuss
Acton may in fact be the greatest town in all of the Greater London conurbation - beating Ealing and Chiswick into a tenderised mash - but our incalculable additions to world history have sadly gone largely overlooked. Until now.
Finally, the town's been given the recognition it deserves - a beautiful plaque of blueish hue that indisputably proves that a famous or important person once lived here, for a bit.
Who was this remarkable person? Why none other than Richard Titmuss, a noted social scientist who lived from 1907 to 1973, and most importantly lived in Acton - specifically at 32 Twyford Avenue - between 1951 and his death.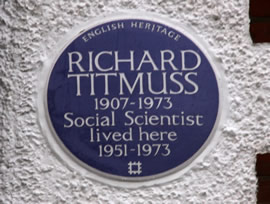 Titmuss led a fascinating life, full of information you couldn't just glean off the plaque: after leaving school at 14 he taught himself social science while working at an insurance company, and eventually worked on social matters for the government during the war - poverty, wealth and population. After 1945 he took the Chair of Social Administration at the London School of Economics, and became one of the architects of the NHS.
Over the course of his career, Titmuss penned a large number of books and papers on social policy, covering topics from welfare and inequality to sexism and racism. In one of his last titles he laid out his philosophy of public altruism, citing the example of British blood donation (which was and is entirely based on the charity of donors) and the lower-producing US system (which paid cash money for plasma). The book was so influential that it resulted in legislation regulating the US blood market. He was also briefly involved with the British Eugenics Society, a fact it's probably best to ignore.
The plaque was officially unveiled last week, and was greeted by Professor Titmuss' remaining family, friends and admirers, as well as an official from English Heritage, who award the plaques.
So the next time someone tells you that no one from Acton has ever had any historical impact, hold back your unimaginable rage and calmly tell them that Richard Titmuss has a blue plaque. And then swear at them when their back's turned.
Picture credit: Thomas Doran
07 November 2011