All welcome to AGM and special exhibition this week
On 8th June the Acton History Group celebrated its first 25 years. A special Exhibition and AGM was held at St. Mary's Church Hall, The Mount, Acton.

Janet Hobbs who chairs the Group said: "Since 1986 when the Group emerged from a Workers Educational Association evening class under the inspiration and organisation of ex-teachers Tom and Averil Harper Smith the Group has gone from strength to strength and now boasts nearly 200 members."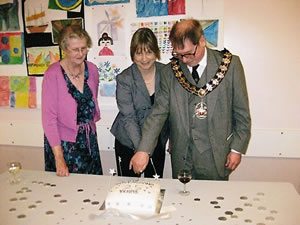 Janet Hobbs, Ealing Central and Acton MP Angie Bray, and Mayor of Ealing John Gallagher cut the cake to celebrate Acton History Group's 25 years. photo courtesy of Tom Doran
Amongst its achievements over the years was a succession of booklets by the Harper Smiths about every conceivable part of Acton's past. They were also responsible for organising funds to restore Acton's old pump which now sits securely outside St. Mary's Church.
More recently, the Group has produced two popular books on the local area: Tin Hats, Food Rations and Doodle Bugs – about life on the Home Front during World War 2; and a history of Waitrose whose first shop was in Acton. The Group's regular twice-yearly magazine has been widely praised.
Every year the Group arrange a programme of speakers and other activities including visits and walks. Next month the Group has arranged a walk from the Kings Head to the Kings Arms - anyone interested, meet outside the Kings Head at 3pm on Sunday 17th July.
The Acton History Group meets regularly throughout the year, and publishes the "Acton Historian twice a year. The subscription is £8.
Further information see www.actonhistory.co.uk
or email info@actonhistory.co.uk
06 June 2011