Derek Raynor hit on pedestrian crossing by car travelling at 60 mph
A man who mowed down a pedestrian from Acton on a pedestrian crossing when well over the speed limit has been jailed for six years at the Old Bailey.
23-year-old Ziad Hamed of Ribblesdale Avenue, Northolt was travelling along Hammersmith Road at over 60mph on 4 March 2017 at around 9.27pm. He was driving a silver BMW 5-series that he had purchased the day before and was seen overtaking cars and speeding through red lights.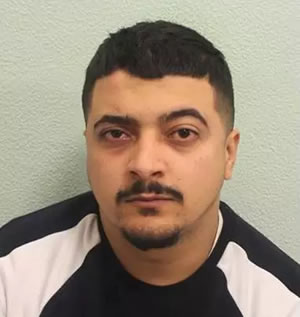 Ziad Hamed
When he approached the junction with Edith Road near Brook Green he hit 81-year-old RAF veteran Derek Raynor who using a pedestrian crossing to carry his shopping home. Hamed had ran a red light at the crossing after overtaking a line of stationary cars before colliding with Mr Raynor. Mr Raynor was rushed to hospital but died a few hours later.
Hamed did not stop at the scene and attempted to cover up evidence of his crime. The impact of the collision caused significant damage to the car and smashed the windscreen, massively reducing his visibility. When he eventually stopped and parked in Stanwick Road, he was caught on CCTV removing the car's number plates and putting them in the boot. Attempts had also been made to obscure the vehicle's identification number by scratching it off. At no point did Hamed call the emergency services or report the collision.
Enquiries revealed that Hamed was the registered owner of the car and he was located and arrested on Tuesday, 7 March. He pleaded guilty to causing death by dangerous driving at a hearing on 9 March.
During sentencing, His Honour Judge Nicolas Cooke described Hamed as a 'reckless and dangerous fool' and added that the removal of the vehicle's number plates was 'exceptional.'
The judge also paid tribute to the investigating team from the Met's Roads and Transport Policing Command accepting that it was an investigation that was not that straight forward.
DC Aaron Moon, the investigating officer, said: "In failing to stop at the scene of what sadly became a fatal collision, Hamed showed complete disregard for the elderly man he hit.
"I hope today's sentencing brings some measure of comfort to Mr Raynor's family following Hamed's cowardly actions."
Mr Raynor's nephew said in a statement: "My uncle was a private man with a strong sense of justice and a desire to help his community.
"What is most upsetting for us as a family is the brutal nature of his death. My uncle would never take a risk when crossing the road and would always use a crossing.
"Despite this he was run down by Hamed when the traffic lights were red and then left for dead.
"Our family has struggled to come to terms with the complete lack of remorse Hamed has shown since taking my uncle's life and his desperate attempts to evade justice. We are relieved that he has finally admitted his guilt."

May 22, 2018