Investigation over Baroness Warsi's subsistence allowance
Baroness Warsi, the co-Chairman of the Conservative party has found herself in the middle of a dispute over whether she paid rent while staying at a house in Acton, for which she claimed expenses.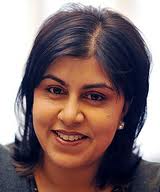 Lady Warsi, has denied that she stayed rent-free at the home in W3 of her colleague, Naweed Khan, in early 2008, saying she made an 'appropriate financial payment'.
It's reported the peer was claiming £165.50 a night subsistence allowance.
However, the owner of the property, Dr Wafik Moustafa, a Conservative donor and former electoral candidate who is now involved in a dispute with the party and Lady Warsi, denies that he received any income from her.
Read an indepth interview with the Acton GP who describes Lady Warsi as ' self-centred' and someone who does not like 'other people in the community sharing the limelight with her."
His interview is on West London Today here.
In a statement, the baroness said she had bought a flat in Wembley in September 2007 but it was not due to be completed until the following year.
While it was being finished she stayed predominantly at two hotels, but also for "occasional nights" at a property in Acton with Tory party official Naweed Khan, who later became her special adviser.
She says she stayed there for about two nights a week over a six-week period at the start of 2008.
Mr Khan confirmed that she had paid him an unspecified amount for the nights she stayed there.
In a separate development, Lady Warsi, whose main home is in Dewsbury, West Yorkshire, admitted not fully declaring rental income from the Wembley flat after she moved out in June 2010.
Party sources have not revealed the full amount Lady Warsi earned from renting her property, but they say it is over the £5,000 annual limit before full disclosure is required.
Lady Warsi has admitted she failed to declare rental income from the Wembley flat to the House of Lords register of interests, when she moved to another address in central London in June 2010.
She described it as an 'oversight', for which she took full responsibility.
The Labour MP, John Mann, had already said he would refer the matter to the watchdog's office.
Lady Warsi said she would "fully co-operate" with any investigation should it take place
May 29th 2012