Want Valetta Road to be fully resurfaced as soon as possible
It's hoped a road in W3, which has badly deteriorated over the years, may finally get resurfaced after residents joined forces and petitioned the council.
Valetta Road in Acton straddles Southfield and East Acton ward and locals say the eastern section has been totally neglected with dangerous potholes appearing on a regular basis.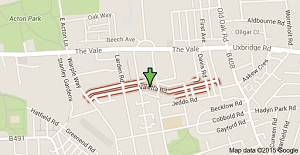 Matthew Price, a cyclist who also also lives on the road, says residents frequently email the council to complain but got so fed up with the lack of action they gathered a petition of 132 signatures - almost all the houses along the affected road.
Working alongside local Lib Dem councillor, Andrew Steed, he presented it to the Council this week. He was told that the road does score badly and is likely to be even worse on next inspection, leaving him hopeful that something will now be done.
Mr Price said: ''What I don't want to happen is another patch up job - we all know those waste time money and effort - we need a full resurface. I cycle and the moment I turn into the road I start to rattle the last few hundred metres home. All the people who signed up agreed it's awful for cars, cyclists and pedestrians.''
Cllr Steed -who also lives on Valetta Road said:
'It was a good example of councillors working with local residents to try and solve a local problem. Following the Council last night and the response from Cllr. Mahfouz I am cautiously optimistic that the road will reach the necessary criteria to be re-surfaced.''
Councillor Bassam Mahfouz, cabinet member for transport, environment and leisure, said:

"Every year we do an independent condition rating of all of the borough's roads and we use those scores to decide which roads will be resurfaced. Last year, the section of Valetta Road between Larden Road and St Elmo Road scored just below the threshold for resurfacing work.
"This survey process is independent and takes into account all of the roads in the borough so we cannot guarantee that Valetta Road will be included in next year's programme. However, the survey for the 2016/17 resurfacing programme is currently underway and, in the meantime, our officers will continue to work with local residents to ensure that the surface remains safe for traffic."
December 12th 2015