Council sends update of progress so far
Acton Town Hall's major refurb is going to plan and on schedule to open with a brand new swimming pool by March next year - according to the Ealing Council.
The transformation of the Grade II listed building began in August 2012 and since then major demolition works have been going on - nearly 500 tipper lorries of excavation and materials have been taken off the site to date.
The steel frame is now in place and the concrete pool tanks are ready. Work will start in the next month on the floors and testing the swimming pools for leaks. This will involve filling the main pool with 675,000 litres of water and the learner pool with 23,000 litres of water.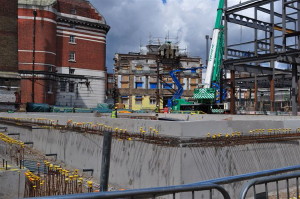 When finished, the new complex will include a leisure centre with a gym and two swimming pools; a library; community space and council offices.
Councillor Julian Bell, local cabinet members joined by Councillor Hitesh Tailor, Councillor Patricia Walker and Councillor Yvonne Johnson visited the site.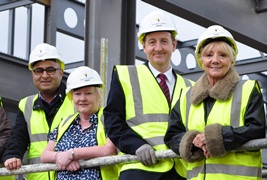 Staff from construction company, Willmott Dixon, showed them the work so far and took them through the next steps.
Councillor Bell said: "As an Acton resident myself, I take a keen interest in the progress of the town hall development which is why I wanted to come down in person and see how work is progressing.
"Acton is an up and coming area and the town hall is an iconic building that sits at its heart. I'm pleased with what I saw today and I'm convinced that local people are going to be very happy with their new, fit-for-purpose leisure and community space."
ACTON TOWN HALL CONSTRUCTION FACTS:
* The volume of excavation and materials taken off site to date is 4954m3 or nearly 500 tipper lorries.
* The volume of concrete to be placed in substructure, basement and pool tanks is 1482m3 or around 250 regular concrete lorries.
* The total steel frame tonnage is 364 tonnes or nearly 18 articulated lorries of steel.

5th June 2013