Residents complain after gathering caused disruption
Ealing Council has responded to local residents after complaints about a religious festival near their homes.
The event - to celebrate the festival of Muharram – commemorating the martyrdom of Imam Hussein during the first month of the Islamic calendar - took place on private land just off the A40.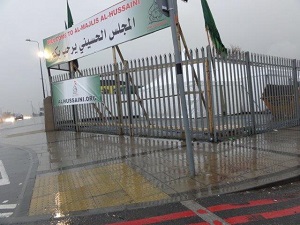 Planning permission was not required because the marquees were temporary structures up for less than 28 days and no licences were needed for any of the activities.
Local residents of the Westcott Park Estate say they were subjected to days and nights of traffic and parking disruption, as well as noise into the early hours.
Ealing Council say they were made aware of the complaints from the start and took action:
'' Council officers visited the site regularly from the start of the event on 8 November following complaints from residents about noise and parking problems. On Wednesday 13 November, officers served a noise abatement notice on the leaseholder. They later formally cautioned him, warning that they would seize amplification equipment if the noise continued. As a result the leaseholder agreed to remove sound equipment and noise officers continued patrols over the following days.
''Parking officers also patrolled the area but could only take action on public roads, not on the estate or land where the event was held because they are privately owned. The council also worked with the police and fire service who attended the site.
''We have spoken to the landowner to make it clear what its responsibilities are when leasing the site in the future.''
Residents can report noise nuisance to Ealing Council on 020 8825 8111
Monday – Thursday – 9am to 2am
Friday 9am to 5am
Saturday Midday to 5am on Sunday
Sunday 2pm to 11pm
26th November 2013