Historical Victoria Road site near North Acton tube station keeps its name
Participate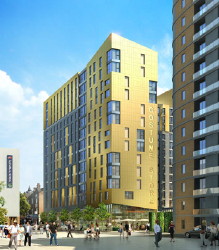 An artist's impression of how the site should look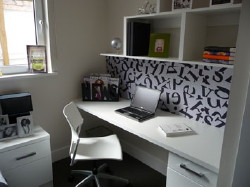 ensuite bedrooms come with bed,desk,chair and storage
Developers Berkeley First have unveiled their first show apartment at the Costume Store development in Acton.
The 730 bed, 18-storey, student accommodation development for the University of the Arts London and Knightsbridge Student Housing Ltd is located on the site of the former BBC Costume Store in North Acton,
Berkeley First bought the site in 2000 and planned to redevelop the site into a student accommodation scheme within six months of purchase.
It's due to open fully by September 2012.
Re named 'The Costume Store' in reference to the site's heritage, it was once used to store BBC Wardrobe and Wigs as well as television rehearsal rooms for shows including Dads Army and Up Pompei.
Matthew Biddle, Managing Director of Berkeley First said:
"One of the many unique things about the development of the site is its heritage. We always wanted to showcase this which is why we named it The Costume Store.
'' We are extremely excited that the legacy of the creativity and fashion that was once at home here will live on through the many fashion and arts students that reside here in years to come."
Hamish Clifton, Managing Director of Artscom Ltd, University of the Arts commented:
"We are delighted that there has been such an encouraging response from our future students for the new accommodation at The Costume Store and it has been great to hear such positive feedback from the students themselves.
''We realise how important it is for us to provide high quality student accommodation with good accessibility to London and our university campuses at attainable rents which is why we have worked so hard with Berkeley to ensure every aspect of the student experience when it comes to accommodation has been addressed.
''At a time when there is concern around student fees and the cost of living in London, we feel we have addressed this issue offering such high quality for rents of £160 per week for an en-suite room and £200 per week for a studio suite.''
The 18 storey building is located two minutes walk from the Central Line at North Acton underground station and offers access to the University of the Arts campuses specifically the new Lime Grove campus for London College of Fashion just under 10 minutes away.
The building has a student reception and public art gallery for students to display their work.
It also features a WIFI enabled student lounge and snug; an art workshop, management offices, on site laundry, landscaped internal courtyards and an external Multi Use Games Area which includes a small basket ball court.
May 9th 2011