Berkely First to develop second student accommodation site near station
A 19 storey development housing 659 students from Imperial College is to be built in North Acton.
The 1.3 acre site currently known as One Victoria Road is two minutes' walk from North Acton tube station.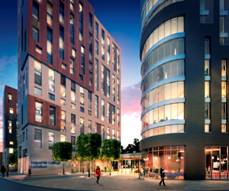 The development, is the second student scheme built in North Acton by Berkeley First, following the launch of The Costume Store, a 730-bed scheme delivered in partnership with University of The Arts, London in September 2012.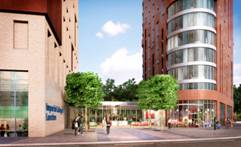 The new building will provide 592 en suites and 66 studios, lounges with Skype pods and digital docking stations, a gym and community-facing coffee shop, restaurant and bar.
Other options being considered for the communal space include a print shop, cinema, newsagent, chemist, study centres, lab space and Student Union space.
Work will begin next month and is due for completion in summer 2015. Imperial College London will own and operate the accommodation for its undergraduate students.
Simon Harding-Roots, Chief Operations Officer at Imperial College London, said:
"The quality and design of this development will be outstanding and will set the standard for the next generation of student accommodation in London. It presents a great opportunity to provide a large portion of the College's student bed requirement, delivering excellent value for money for our students. This dynamic student hub will truly reflect the world-class standards of Imperial as we continue to invest in enhancing our students' experience"
Matthew Biddle, Managing Director of Berkeley First, said: "We are delighted to be working in partnership with Imperial College again on this new landmark student scheme, which will be tailored to the specific requirements of Imperial's undergraduates. Our focus will once again be on delivering exceptional quality and bespoke design, at attainable rents."
25th February 2013