Bishop joined celebrations with community
St Mary's church in Acton has marked the 150th anniversary of its building with an exhibition on the history of the church and local area and tours up the tower of St Mary's.
The Bishop of London, Richard Chartres, joined the celebrations to preside and preach at a service of thanksgiving for the 150 years of mission and ministry from the building.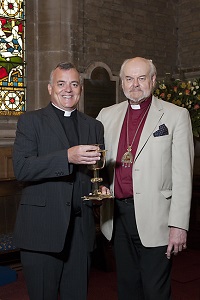 The celebration allowed the church community to give thanks for all that has happened at St Mary's at a time when the arrival of St Mary's Priest in Charge and Rector Designate, the Reverend Nick Jones, is a cause to look to the future in joyful expectation.
Nick and his family were welcomed to St Mary's at the start of September from their previous home in Yorkshire. Nick previously served as a chaplain and senior manager for HM Prison Service, mainly working with under 18s, while holding the roles of Chaplain to Halifax Minster and Assistant Priest in the parish of Siddal.
The town of Acton and the Church of St Mary have a long, intertwined history. There has been a St Mary's Church on this site in West London for over 800 years. The present building is Victorian, begun in 1865, with the cost of the building funded entirely by gifts from the congregation.
The anniversary exhibition allowed local residents to explore its rich history further, displaying historical objects and documents such as the plans of the original church and allowing closer examination of the carved sandstone pillars in the nave and historic memorials in the church.
St Mary's rich history was also on view during the thanksgiving service, where a silver gilt altar service dating from the 1630s was displayed. The altar service was given to the church by Lady Dudley, wife of Sir Robert Dudley and a major church benefactor. It is now in the V&A museum and was specially loaned back for the anniversary.
Charity and local community outreach is a strong part of St Mary's history, going back to local parishioners, the Crayle sisters, who left bequests to be annually distributed to poor people in the parish. Nowadays, St Mary Acton serves the local community through a number of outreach projects including 'Standing Tall', a drop-on session for local homeless people they can obtain advice and use computers as well as participate in making art and music.
St Mary's is also a key member of the Ealing Night Shelters project, a borough-wide project providing accommodation for homeless people for several weeks during the coldest months. The church also has an active Youth Church and appointed a youth worker last year to run this and further expand its ministry in this area. St Mary's hosts a number of community groups, such as a café run by people with autism, and also has an impressive musical tradition including a bell-ringing society and a resident gospel choir.
The Reverend Nick Jones, Priest in Charge and Rector Designate of St Mary Acton, commented:
"It is wonderful to have arrived at St. Mary's in time to celebrate 150 years of our present building at the heart of Acton. I have immensely enjoyed the celebrations and look forward to the next phase of our life together as a community."
14th September 2015