Popular bronze lettering now spelling CTON
Popular bronze lettering on Acton's railway bridge which glowed purple at night has been vandalised. Residents were dismayed that just days after the bronze letters spelling out 'ACTON' appeared, the letter A had disappeared.
Participate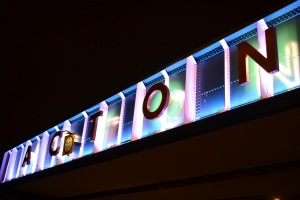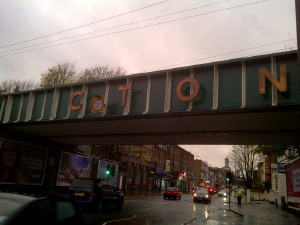 Above.. missing a letter (and below and right) how it glowed.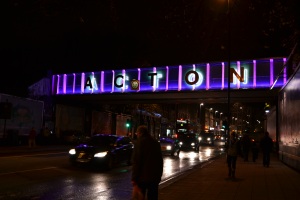 W3 forum member Adam Kimmel broke the news: '' These are lovely -- the best thing I'd seen in Acton for ages. I went past them last night and cursed my broken camera, which meant I couldn't take a photo of them.

''This morning at 7am, standing at the bus stop I noticed....someone's already nicked the "A". Climbed right up, ripped it off, lights and all. Very, very upsetting to see this, as I'd been raving about it to my family as a sight to see (really).

''Sometimes, Acton is wasted on Actonites.''
Local resident Clare Gittins says she went down to see if she could salvage the A, she says:
'' I met Nick O'Donnell from Ealing Council who was already at the scene taking photos of the remaining letters and the dangling wire. He told me two bits of good news. The letters, despite looking rather glamorous, are actually very cheap to make and only cost around £35 each. He said was going to make certain the missing letter was replaced extremely quickly.
"I asked him whether the bridge can be made more vandal-proof and he said this would be looked at as well. However, Railtrack have to maintain the bridge on an annual basis so the letters have to be clamped on rather than welded on which would make them more difficult to remove.''
Ealing Council Leader Julian Bell has confirmed that it was vandalism.
He said: '' It is shocking that within days of the new sign on Acton Vale bridge being installed that it was vandalised. It was a mindless and irresponsible act which could have endangered pedestrians and road users below.
"Although the letters are only made of low value thin copper sheeting, we will be reviewing security measures and checking CCTV images. The new look bridge creates a warm, colourful welcome to Acton at a key gateway to the borough and will be looking to repair the damage as soon as possible."
The signage is part of Acton town centre improvements paid for by the Mayor's Outer London Fund.
November 21, 2012