Year-long project helped create new exhibition
Participate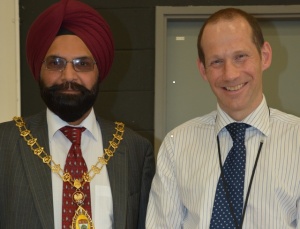 Mayor Kamaljit Dhindsa and Headteacher Dr Andy Sievewright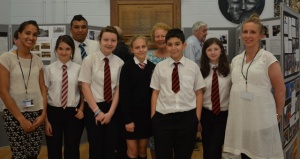 Current students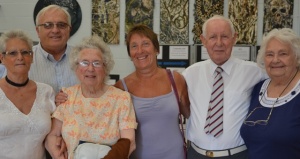 Former students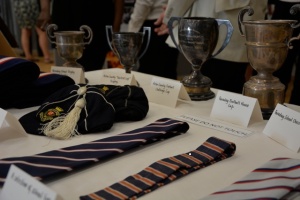 Ties and prizes
Sign up for our free newsletter

Comment on this story on the
Acton High's latest video features our recent exhibition on the school's history since its foundation in the early 1900s.
The school owed its creation to local people's efforts to improve conditions for the growing number of young people in Acton (today rising rapidly once more) aided by the then Borough of Acton. A mixture of civic action and 'Big Society', you might say.
Alumni from the 20th and 21st centuries, former staff and other guests celebrated the school's achievements in over 100 years of history. The exhibition resulted from a special year-long joint project between Acton High School students, staff and the Acton History Group, in particular Maureen Colledge. The Borough Archivist, Dr Jonathan Oates, also helped.
Former student Tom Gibbons had the distinction of being the only one present to have been educated at the school's original Woodlands site in Mill Hill Road, now part of Ealing & West London College. The school moved to Gunnersbury Lane just before the Second World War.
The video has impressions of the school's history from current Headteacher Dr Andy Sievewright, Head of Humanities Nick Taylor and Mayor of Ealing Councillor Kamaljit Dhindsa. Councillors Jasbir Anand, Labour Cabinet Member for Children's Services, and David Millican, Leader of Ealing Conservatives, also spoke.
The video includes a set of still photos starting at 6 mins 50 secs. See
http://www.actonhighschool.co.uk/Video-from-100-Years-Exhibiton


The many fascinating artefacts on display include photos, silhouettes, school uniforms and songs, written records and the school's role in the 1948 London Olympics. The project will continue next year when today's students will visit Hill 60 at Ypres in Belgium where some of the school's first students went on to fight during the First World War. Students will also explore the 1960s origins of rock band The Who at the school.
A century ago the local council was required to 'maintain and keep efficient' all state schools in the area, schools had to obey council directions about what they taught and it was the council that inspected local schools, long before Ofsted. Nowadays central government has taken on most of those roles.
There will be more opportunities to see the exhibition in the 2013-14 school year.
If you are interested in viewing it, please contact me via a direct message on this website.
Guy Fiegehen
Chair of Governors
Acton High School

29th July 2013