Emergency sewer repairs expected to cause major traffic disruption
Significant traffic disruption is anticipated next week due toe road closures and diversions next week as Thames Water begin emergency sewer repairs in Acton.
The High Street will be closed between Acton Police Station (Steyne Road) and Gunnersbury Lane with diversions via other local routes signposted. Two-way temporary traffic lights will also be set up on junction of Gunnersbury Lane and the High Street.
The road will be closed at 6am on Sunday 25 October and work will be carried out 24 hours a day until the sewer pipe has been repaired and the road resurfaced. The job is expected to take five days.
The problems will be exacerbated by the concurrent closure of local tube services between during the works. The District line is to close between Ealing Broadway and Turnham Green, over nine days from Saturday 24 October to Sunday 1 November with the Piccadilly line closing from Acton Town to Uxbridge on the two weekends during the period. The road closures are likely to impact on replacement bus services which will need to be diverted from their normal routes.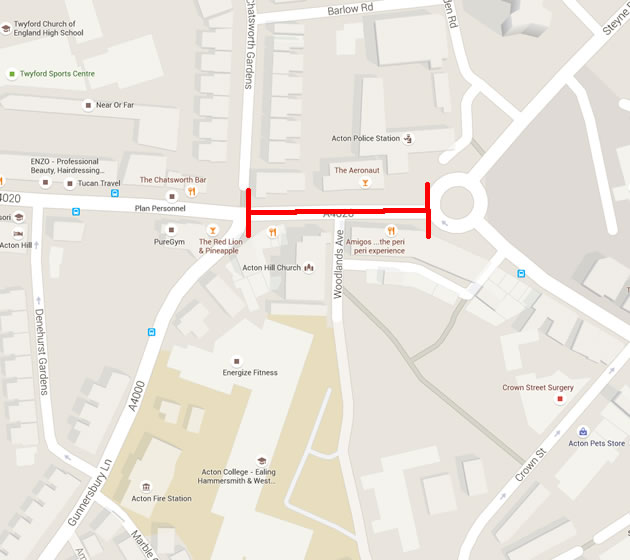 We haven't been informed by TfL what diversions will be in place for buses but unconfirmed reports suggest the following:
E3 diverted via Bollo Lane, Bollo Bridge Road and Acton Lane
607, 207 and 440 diverted Twyford Avenue - Noel Road - Horn Lane
427 - will endeavour to run to/from Acton Market Place but may have to be curtailed to start and finish at Ealing Broadway
266 will be subject to delays in the Horn Lane area
Michael Wells from Thames Water has apologised for the anticipated disruption, ''We know it's frustrating when journeys are disrupted and we're sorry for any inconvenience the work may cause, but it is a 'must-do' job. When a sewer pipe is broken the sewage doesn't flow through it and instead backs up into the network of pipes, often into properties through toilets and sinks. It's a truly miserable experience so we have to do all we can to protect our customers from it. We'll be working day and night to get the job done and the road reopened as quickly as possible.''
21st October 2015