News described as a' body blow' to the most vulnerable in the borough
Proposals for the closure of the Remploy Electronics factory at Acton have been condemned.
The factory in Portal Way, North Acton employs 32 local disabled people and has provided employment in the area for 44 years.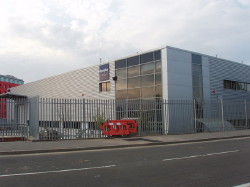 Remploy factory, North Acton © Copyright David Hawgood

Remploy is planning to close 36 of its 54 factories, putting more than 1,700 jobs at risk.
Minister for Disabled People Maria Miller said the sites could shut by the end of the year as they were not financially viable.
Labour called the decision "the wrong plan at the wrong time".
Remploy factories were established 66 years ago as part of the creation of the welfare state.
London Assembly Member Murad Qureshi said :"this announcement is a body blow to some of my most vulnerable in Ealing. The type of working environment offered by Remploy is particularly suited to some people who can do very productive work in a supported environment.
''Whilst I am supportive of improving access to work for all, the reality of the current economic climate is that there will be little prospect for those who lose their jobs finding new employment if the closure goes ahead."
9th March 2012