Kitten with extra toes found in Acton
An unusual kitten is recovering at an Acton vets after being found in a car park near North Acton tube station.
The black and white kitten is a polydactyl, a term which means he has extra toes. He has six on each of his front paws instead of the usual five and five on his back paws instead of the usual four. He was found by two men working in the car park, starving and covered in a sticky adhesive, probably stored where he'd been sleeping.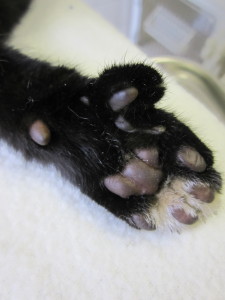 The Goddard Vets team is now caring for him and vet, Genevieve Touzel, believes him to be about 16 weeks old. They've named him Guinness as the car park where he was found is also close to The Castle Pub. They've bathed him and given him a health check and, if no owner comes forward, they will try to find him a new home.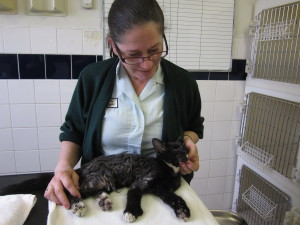 She says: "Guinness is such a sweet, friendly kitten. His extra toes are the result of a genetic abnormality and cause him no harm at all. Polydactyl cats are rare and are sometimes known as mitten cats because they look as if they're wearing mittens. It took our trainee nurse Sandra Floyd an hour and a half to remove all the adhesive from his fur but he's much happier now and has also been making up for his missed meals.
We know times are hard but urge people having problems caring for their pets to contact local rescue charities rather than simply abandoning them. It's also so important to neuter animals to reduce the risk of unwanted kittens and puppies. Vets and charities will always help – we will never allow animals to suffer."
The Goddard Veterinary Group in Acton is based at 220 Horn Lane, London W3 6PL. It can be contacted on 020 8 896 0398.
27th March 2013