But anger from community groups who say Council has broken promises
Participate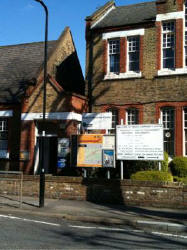 The Priory Centre
Groups who use the Priory Centre have been told they will be rehoused next year for the site to be turned into a primary school - but it's feared not all of them will be given new accommodation.
It was expected that the 17 different groups would move to the new Town Hall complex en masse, but new plans have caused anger.
Artistic Director of TheatreStudioWest Julie Saunders is Chair of the newly formed Priory Community Association. She says there won't be enough room for all the groups and they have now been told to leave the centre by 2012 - earlier than expected.
She says the Council is breaking promises :

''Whilst we understand the provision for school places is needed in Acton, if the Council puts this through they will have unashamedly reneged on promises that were made during the Town Hall regeneration process of which I have been involved since 2009.''
A petition has been set up which can be signed online or in the reception at Priory Community Centre, and Priory members plan to attend the Cabinet meeting at Ealing Town Hall on 5th July.
A council spokesperson said: ''A proposal to turn the Priory Centre into a primary school will be considered at next week's Cabinet meeting. This is part of a wider plan to address the pressing need for more primary places in Acton.
''All Priory Centre users have been written to informing them of this and letting them know that, if Cabinet agrees to the proposal, they will need to vacate the centre next year.
''However, the council is committed to finding them alternative premises until the new Acton Town Hall complex opens in 2014. '
'We have worked closely with users on the specifications for the new community spaces being created at the Acton Town Hall complex and are confident there will be enough room for groups who currently hire the Priory Centre."


30th June 2011