Rupa Huq raises case in Commons of how Patel family faced false accusations of theft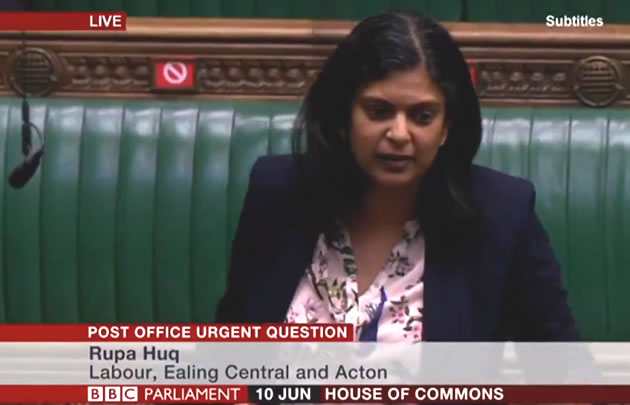 The former manager of the Acton Crown Post Office was forced to wear an electronic tag after he was falsely accused of theft. Now Vipin Patel's case has been raised in the House of Commons with local MP Rupa Huq demanding justice. Speaking during an emergency debate to the minister for postal services, the Ealing Central and Acton MP called for 'proper answers rather than a whitewash' after the announcement of an independent review into the series of miscarriages of justice caused by the flawed Horizon accounting system.
Mr Patel and his family were just one of many victims of a computer system which senior Post Office management relied upon to bring criminal charges against their employees. Private Eye magazine launched a detailed investigation into the matter which showed that the Fujitsu designed system was dysfunctional and the Post Office have now admitted they made an error in accusing many of their staff of stealing. However, this was not before a significant number of innocent people lost their livelihoods and reputations, were jailed and, in some cases committed suicide.
Having worked for the Post Office in Acton for over twenty years and gained a reputation for competence, honesty and good service, the Patels decided to move to the countryside and took over a sub-Post Office in Oxfordshire. However, when an apparent shortfall appeared in the branch's accounts Mr Patel was accused of fraud.
Their son Varchas Patel, who still lives in Acton, tells the story, "I have seen my parents work extremely hard as a child, often working 6/7 days a week to provide stability and build strong foundations for us. I hardly grew up with my parents. Most of my life was spent growing up with my elderly grandmother because mum and dad were always working. My dad was the manager of Acton Crown Post Office and my mum worked in a local newsagent before we moved from Acton to Oxfordshire for a quieter life. As child, I use to go to Acton Post Office after school. My dad made me sit down in one place for me to complete my homework but my natural curiosity as a child meant I was focusing on my dad. I watched him managing the entire walk-in safes, a multi-million pound cash float and Post Office stocks, such as benefits and stamps with a team.
"One of the things I remember vividly was how carefully and accurately he balanced up on a weekly basis in Acton. His staff would seek his advice when they could not balance the figures and dad would always find the errors and finish concluding the weekly stock take. He was trusted to bring both the safe keys home and knew the alarm combinations. At times the alarm would go off and we lived only walking distance away from the Post Office so it was perfect for the Post Office to appoint a trusted man with close proximity should the alarm go off during the night.
"A few times I recall, he went down to check and stayed there until the police arrived and once the all clear was given he would come home, ready to tackle the next day. I was 15 when we moved to Oxfordshire, both my parents were extremely excited about gaining their first business since losing everything in Uganda under the Idi Amin reign. Life was great at this point, my parents progressed really well whilst me and my sister were growing up."
However, this idyll was not to last. Post Office auditors came to the branch in 2010 and identified what they believed to be a discrepancy of £33,000 working off information provided by the Horizon computer system. The Post Office were given access to all the family's financial information but, even when no evidence could be found of any money being taken, they persisted with their prosecution.
Mr Patel was suspended pending an investigation while his wife, Jayshree, carried on running the store which was attached to the Post Office. She had to face insinuations from some customers that her husband was a thief.
The Post Office told him incorrectly that he was the only one who was in this situation and urged him to plead guilty to obtain a lenient sentence. The same lie had been told to other victims of the Horizon system who, as a consequence admitted to be guilty to a crime they did not commit. As part of his sentence he was forced to wear an electronic tag when attending his daughter's graduation in York where she had achieved a first class degree in chemistry.
The family suffered a significant financial loss and Mrs Patel had to sell her wedding gold which was gifted by her parents and other family members. Mr Patel's health deteriorated and he lost confidence in himself, at one point considering suicide.
Their son says, "It was the strength of my mother which gave him the courage to fight on whilst we had a battle to survive and continue to move forward from our losses. My dad is 66 now and my mum is 59 – it has been 10 years, we as a family have had to endure this. The family business has been kept with sheer hard work and determination by my strong parents. We choose not to think about what people said and continued to with life as best as we could. At one point people in Acton would call my parents Romeo and Juliet, purely because they are very helpful people towards friends, family and strangers which stems from their whole hearted genuine kindness."
Rupa told the House of Commons earlier this month, "For the Patels, moving from being managers of Acton Crown post office over three decades to their own sub-postmaster role in the country was meant to be a dream come true, but it turned into a nightmare when they lost not only substantial sums of money but their mental and physical health and their reputations. Mr Patel ended up with a criminal electronic tag... Why in Acton, for more than 20 years, they were seen as upstanding pillars of the community—they handled multi-million pound sums and had a safe key—but suddenly in Oxfordshire they were falsely branded as criminals. Why did it take the Criminal Cases Review Commission to say that there had been a miscarriage of justice? Where was the oversight? Finally, can the Minister make good on the promise that Paula Vennells gave me in 2018 that Acton Crown post office will reopen? It closed on her watch, and she has since done a runner."
Speaking during an emergency debate to the minister for postal services, Ms Huq called for proper answers rather than a whitewash after the announcement of an independent review into the Horizon debacle.
Following the exchange, Rupa said, "Postal workers have always been vital to our communities, but local post offices up and down have been on the frontline of the Covid-19 crisis. We are told we must appreciate essential workers and that black lives matter but the lives of the Patels as a minority ethnic couple were all but destroyed by this shameful scandal."
The Minister replied that the Post Office closure programme was ongoing Covid-19 notwithstanding and that the enquiry would provide an answer.
The family now continue to battle to obtain proper financial redress. As part of the settlement from the Post Office he received some financial compensation but that is regarded as in no way being adequate compensation. The postmasters launched a successful group litigation against the Post Office but legal fees absorbed a large part of the sum that was eventually settled on.
Varchas Patel, " It is appalling the way Post Office has handled this and continues to let it's hard working public servants live through this turmoil. I am proud of the strength my parents have shown and we will continue to fight this battle until those responsible are held accountable and my parents and everybody else affected by the scandal are able to recover their huge losses. As a son I am extremely proud of the hard work my parents show yet to this very day."
Hon. Mr Justice Fraser in his review of the Horizon scandal said, "This approach by the Post Office has amounted, in reality, to bare assertions and denials that ignore what has actually occurred, at least so far as the witnesses called before me in the Horizon Issues trial are concerned. It amounts to the 21st century equivalent of maintaining that the earth is flat."
It is understood that he has recently referred a number of individuals to the Crown Prosecution Service.
June 18, 2020