And the advertised car park site at Morrisons has not attracted any interest ' to date'
Acton Post Office on King Street has been given a stay of execution and will now remain open until November.
There had been fears that the busy centrally based post office would be closing over summer leaving many without a neaby facility.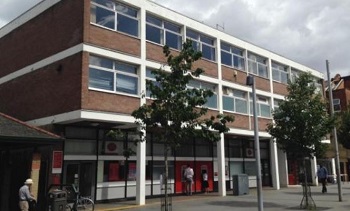 However, a Post Office Spokesperson has now told Acton W3:

"The landlord of the site served notice on us earlier in the year to redevelop the site but we have negotiated an agreement for the Post Office branch to remain there until the Autumn (November) when the work is due to start.
''We are committed to continuing to provide our customers with convenient access to Post Office branches and we are exploring options in Acton. We don't yet have detailed proposals."
Meanwhile, there had been concerns over the future of Morrisons supermarket after the 1.3ha site appeared in the Ealing in London magazine as a developement opportunity, it's been advertised as mixed-use development residential and retail: '' Residential on upper levels, retail, adjacent post office site would also be available. Improved access to town square which connects with a heritage listed church.''
Ealing Council's Director of Regeneration and Planning, Lucy Taylor, says:

"The Council is not the owner of the Morrisons site. The purpose of promoting sites for development through both Ealing in London and the Local Plan is to encourage landowners to bring underutilised sites forward for development - particularly sites that could provide more uses that create jobs, contribute to town centre regeneration and create more affordable housing.

''The Morrisons site has long been considered a site where some development could take place over the surface level car park which may or may not involve a reconfiguration of the supermarket - that is clearly a decision for Morrisons.

''Whilst a proposal has been approved for the Post Office site it has not yet been developed. Clearly development can come forward in a comprehensive or phased way.'
An Ealing Council spokesperson added ' there has been no interest in development on this site to date.'
We are awaiting a statement from Morrisons about the future for the store.
June 20th 2018